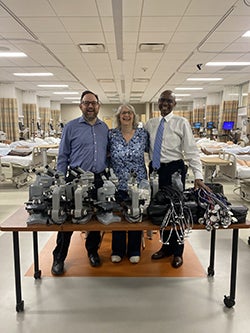 The University of Pittsburgh School of Nursing is giving back in a big way – helping nursing students on the other side of the world improve their learning experience in the labs and classrooms.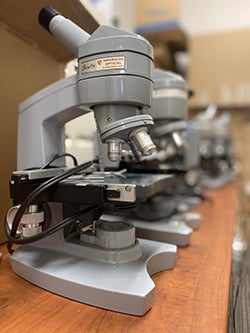 St. Paul's University College of Health Sciences in Kenya has steadily seen its student population rise over the last three years. But with that increase comes a dire need to expand and equip their teaching and learning facilities, such as their medical laboratories.
"Procurement of medical equipment and resources has proved very expensive for the school, which is only four years old," said Susan Wanja, dean for St. Paul's University College of Health Sciences, lecturer, and head of the nursing department.
Dr. Julius Kitutu, associate dean for student affairs and alumni relations and chief diversity officer, has organized book donation drives for Kenya for years. This time, he wanted to do something bigger.
In November 2022, a team from the University of Pittsburgh, composed of Vice Provost for Global Affairs, Dr. Ariel Armony, Vice Chancellor for Global Studies; Dr. Catherine Koverola, Director for African Studies; Dr. Macrina Lelei, Associate Director for Center for African Studies; and Dr. Kitutu visited St. Paul's University. "When we asked the students what they needed, they said they had nothing to practice their skill set with," said Kitutu.
Kitutu reached out to faculty members at the School of Nursing to see what, if anything, could be donated to St. Paul's University, and the faculty responded. Eleven microscopes, slides, bulbs, coverslips and lens paper, 25 blood pressure cuffs, 25 stethoscopes and five teaching stethoscopes sitting in storage will head around the world and have a new life.
"We've had this equipment for years, and they were just sitting there taking up space," said Pitt Nursing assistant professor and director of the Science Education Labs, Jake Dechant, PhD, MA. "When I was told students could use them, I said absolutely. This equipment will now help train hundreds if not thousands of students."
"We've had this equipment accumulating over the years," said Karen Sellitto, who runs the skills and simulation laboratory at Pitt Nursing. "My stuff is the very basic: what everyone has to use to save a life. And that's what we're here for, saving lives."
"The donated medical equipment will improve access to skills-training infrastructure and improve the skills gap that currently exists due to inadequate training resources, and which can impact patient care negatively," said Wanja. "The equipment will also improve the learning experience for the students in the laboratories and improve their skills performance in the clinical area."
"They really appreciate it and can't wait to receive these supplies," said Kitutu.
The equipment will arrive in Kenya in June. Pitt Nursing is also donating two microscopes to Kitunduni High School in Matinyani District, Kitui County.