At the School of Nursing, we feel that our success is a direct reflection of the achievements of our graduates, whether they advance the nursing profession in the hospital, laboratory, classroom, or government office.  
To acknowledge the accomplishments of our graduates, as well as their contributions to the nursing profession and the success of the School of Nursing, we offer annual alumni awards. We want to call attention to these role-model worthy nurses and nurse educators!
Meet our 2018 Alumni Award Honorees:
2018 Distinguished Alumni
Alan Bernstein (BSN '00)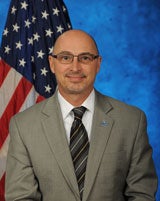 As the DCNO, Alan Bernstein serves alongside the VHA Chief Nursing Officer (CNO) in providing leadership, guidance and strategic direction on all issues related to nursing; including practice, education, research, and workforce for clinical programs across the continuum of care and spectrum of care delivery sites that impact our Veterans. Mr. Bernstein also provides leadership oversight for ONS daily operations and recently served as the acting VHA CNO for 6 months. He was previously the Nurse Executive for VA North Texas Healthcare System (VANTHCS), the second largest healthcare system in VA. Mr. Bernstein was responsible for all administrative and clinical aspects of nursing care for 1700 nursing and sterile processing personnel. In 2016 he was awarded the VA Secretary's Award for Nursing Excellence in recognition of his exceptional service as a VHA Nurse Executive. Prior to joining VANTHCS he was the National Director for Nursing Workforce and Leadership in ONS where he had responsibility for policy and program development that supported a well-educated, competent and diverse VA Nursing workforce. Prior to joining the ONS he was the Associate Chief Nurse for Long Term Care at the VA Pittsburgh Healthcare System, where he was responsible for clinical and administrative oversight of the 350 in-patient beds and approximately 200 FTEE. Mr. Bernstein's past experience also includes Nursing Informatics, Critical Care Nursing and Medical-Surgical Nursing. Mr. Bernstein is a member of numerous professional associations including, American Organization of Nurse Executives, Texas Organization of Nurse Executives, North Texas Organization of Nurse Executives, and the American Nurses Association. He has also served as part of the Federal Emergency Management Agency Healthcare Leadership Incident Command, Federal Executive Institute Leadership for a Democratic Society, and the Network Executive and Healthcare Leadership Institutes as both a participant and a coach for the next wave of VHA leaders. During his tenure he has participated in numerous other development programs, obtained fellow level VHA mentorship certification, and served on over 25 major committees. 
Alan received an Associate Degree for Photography/Multi-Media from the Art Institute of Pittsburgh and his Associate Degree in Nursing from CCAC. He then went on to complete his Bachelor of Science in Nursing from the University of Pittsburgh School of Nursing in 2000. In 2003 he received his Master of Science in Nursing Administration at Indiana University of Pennsylvania. He currently lives in Virginia with his wife.
2018 Outstanding Young Alumni
Nicole Osier (PhD '16)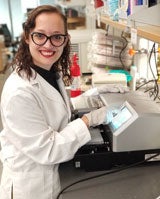 Dr. Osier is an Assistant Professor and new addition to the University of Texas at Austin faculty. She holds joint appointments in the School of Nursing (Division of Holistic Adult Health) and Dell Medical School (Department of Neurology). Dr. Osier also serves as the Director of the Biobehavioral Core of St. David's Center for Health Promotion and Disease Prevention Research in Underserved Populations (CHPR). Dr. Osier's training background includes dual bachelor's degrees from Michigan State University (in Nutritional Science and Nursing), a PhD from the University of Pittsburgh (in Nursing with an emphasis on Molecular Genomics), and a post-doctoral fellowship at the National Institutes of Health (in Nursing with an emphasis on Protein Quantification). To-date, Dr. Osier's program of research has centered on using both pre-clinical and clinical research to promote understanding the molecular and genomic underpinnings of health, disease, and injury recovery. Her current research focuses on understanding the pathology associated with traumatic brain injury (TBI). Her ultimate goal is to harness this information to predict individuals at highest risk for poor outcomes and ultimately to inform precision care initiatives.
2018 Honorary Alumni 
Sarah Hexem, Esq.

Sarah Hexem, Esq. is the Executive Director of the PA Action Coalition and the Policy Director for the National Nurse-Led Care Consortium. She also serves as the Policy Director for the Research and Evaluation Group at Public Health Management Corporation. Sarah regularly speaks on topics related to the role of nursing in building a Culture of Health. She has published in the areas of public health law research, nurse practitioner scope of practice, and medical-legal partnership. Sarah teaches health policy at the University of Pennsylvania School of Nursing, and she graduated magna cum laude from Temple University Beasley School of Law.
Larry and Wayne Simon
Larry and Wayne Simon are generous supporters of the B.K. Simon Family Charitable Foundation which has supported University of Pittsburgh nursing students since 2009.  As a result of their generosity, the School of Nursing has been able to award approximately 30 scholarships per year to deserving students with demonstrated financial need from southwestern Pennsylvania. The Foundation honors their father B. Kenneth Simon, a Pittsburgh native who passed away in 2003. He was the president and owner of local company All-Pak (packaging supply).