The School of Nursing is very proud of the number of funds available that provide support in the form of scholarships, research, and building enhancements. The School is deeply grateful to the individuals and organizations who, with their generous support, have made this possible.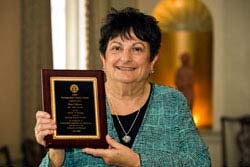 Pearl Moore (BSN '68, MN '74) recently designated a planned gift of a $50,000 life insurance policy to the Nancy Glunt Hoffman Endowed Chair in Oncology Nursing.  As a former oncology clinical nurse specialist and the founding CEO of the Oncology Nursing Society, Moore has long supported research and academic programs that promote high standards in patient care. "Supporting the chair is important because advances in oncology nursing will lead to improved cancer care and treatments for patients," she explains.
After graduating with a specialty degree in oncology, Moore cared for cancer patients and learned immediately the value of her clinical training at the University of Pittsburgh and the importance of improving standards of care. "It was rewarding getting to know my patients and having a sense that I was really helping people with my knowledge and skills as a nurse," says Moore.
The School of Nursing was one of the first to offer a graduate program in oncology nursing underscoring our commitment to educating nurses and preparing them to lead research and care in this field. By establishing the Nancy Glunt Hoffman Endowed Chair in Oncology Nursing, the School of Nursing will continue its tradition of advancing nursing care and investigation. The Chair will be a driving force in sustaining the School of Nursing's outstanding reputation for excellence in health-related research and education.
By giving to the oncology chair fund to support research initiatives, Moore not only expresses her deep respect and pride for the institution that launched her oncology nursing career but also finds a way to continue supporting vital improvements in patient care into the future.
For more information or to support the Nancy Glunt Hoffman Endowed Chair in Oncology Nursing or other funding opportunities at the School of Nursing, contact Jane W. Binley, Director of Development, University of Pittsburgh School of Nursing at 412-624-7541 or janebinley@pitt.edu.