Opal Wetzel Stockwell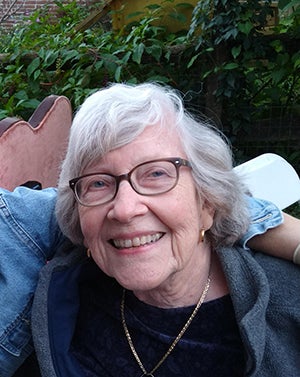 More than 70 years ago, Opal Wetzel Stockwell (NURS '51) began laying the foundation for her legacy at the University of Pittsburgh. Born on June 6, 1928, in western Pennsylvania, Stockwell enrolled in Pitt's School of Nursing in the late 1940s. Along with 34 other women from across the country, Stockwell began her education in Pitt's newly established five-year nursing program. In 1950, just months before she was set to graduate, the Korean War began. Stockwell recalls one of her classmates had to drop out to follow her husband to his various military posts. "She did come back and graduate later, but we still considered her part of our class," said Stockwell.
Upon her graduation in 1951, Stockwell became the first person in her family to earn a degree from the University of Pittsburgh. In fact, her father and four brothers had all previously attended and graduated from the Pennsylvania State University. "You can image what happened when we would have the Pitt [vs. Penn State] football game," said Stockwell. "My poor mother would be getting beaten up by both sides." Following in her footsteps, Stockwell's younger sister also attended and graduated from Pitt's School of Nursing.
During her time at Pitt, Stockwell met her late husband, Elbridge Stockwell (ENGR '50), whom she married shortly after her graduation in 1951. Keeping up with her Pitt legacy, two of Stockwell's four children graduated from Pitt as well. "To this day, we're still a Pitt family."
To commemorate her affiliation with the University, Stockwell has generously pledged funds to endow the new Opal Wetzel Stockwell Scholarship Fund, to support those pursuing advanced nursing degrees.
"I had a partial scholarship that helped me a lot when I was going to Pitt," said Stockwell. "And I know fees and tuition are going up and up…and a lot of young people would like to go to these programs but are unable to do so."
Thanks to Stockwell's charitable gift, students can worry less about educational expenses and focus more on important things like their studies, families and creating their own Pitt legacy.