Happy National Midwifery Week!
National Midwifery Week was created by the American College of Nurse Midwives (ACNM) to celebrate and recognize midwives and midwife-led care.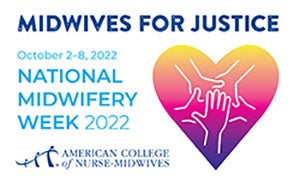 At Pitt Nursing, we are proud of our students, alumni and faculty in our DNP Nurse-Midwife program who are providing services to foster a supportive environment for women and families before, during and after pregnancy, including well-woman care. The role of the midwife is vital in our society and it's important to recognize the important work they do each and every day.
"Midwives are underutilized health care providers in the United States and in much of the world," said Nancy Niemczyk, PhD, CNM, FACNM, director of the Nurse-Midwife program at Pitt Nursing. "The 2014 Lancet series on midwifery estimated that if midwifery were ramped up around the globe to meet global needs, approximately 30% of maternal and infant mortality would be prevented."
Pitt Nursing's program was started in 2016 and is the first midwifery program in western Pennsylvania, the only DNP midwifery program between Philadelphia, PA and Cleveland, OH and the only option for students who want to remain in the Pittsburgh area have to receive and in-person education.
"Students love that unlike many midwifery programs, which require students to find their own clinical sites, we provide some of the best clinical sites in the country, including Magee Womens Hospital and the Midwife Center for Birth and Women's Health," said Dr. Niemczyk. "Students love that they all get to attend births in a high-risk hospital and in a low-risk community setting, where they can even attend water births!"
This year's National Midwifery Week theme is "Midwives for Justice" and explores how midwives are committed to equitable, ethical, accessible, and quality healthcare for all by striving for justice on many fronts. Dr. Niemczyk said the role of the midwife is important because much of the U.S. health care system is centered on acute care, whereas midwifery is a profession centered in a wellness model of care and a belief that for most people pregnancy, childbirth, menarche, menopause etc… are normal life events and not illnesses.
"While midwives certainly screen for complications and provide emergency care, their larger focus is on teaching and counseling clients and families to be healthy through life transitions (including mentally and emotionally healthy)," said Dr. Niemczyk. "Midwives care for women and other people with a uterus throughout the lifespan, including the newborn period, teen years, childbearing years, and into menopause."
Six students have graduated from the DNP Midwifery Program, received certification, and have taken on roles at Forbes Hospital in Monroeville, the Midwife Center in Pittsburgh, Dubois, and the Atlanta Birth Center in Georgia. Four students are currently enrolled in the program, including an anthropologist who is changing her career, and a U.S. Airforce major!
"Although they have different backgrounds, our students are united by a desire to empower childbearing people and provide them with all their healthcare options," said Dr. Niemczyk.
Pitt Nursing is honored to take the time to recognize our midwifery alumni, students and faculty who are making a difference in an ever-evolving profession.
"As maternal mortality increases in the United States, it is clear that childbearing people need the time-intensive, person-focused care that midwives provide," said Dr. Niemczyk. "I hope that all pregnant people can receive access to this care, appropriately coordinated with obstetric providers."
More information on Pitt Nursing's DNP Midwifery Program.