The University of Pittsburgh, School of Nursing is pleased to offer the Nurse-Midwife major within our nationally recognized DNP program. Nurse-midwives, part of the centuries-long tradition of midwifery, provide services to foster a supportive environment for women and families before, during, and after pregnancy, including well-woman care. This major will prepare graduates to sit for the national certification examination in Nurse-Midwifery and to apply for state licensure as a Certified Nurse-Midwife (CNM) from appropriate state boards. It achieved pre-accreditation status from the Accreditation Commission for Midwifery Education (ACME) in February 2016.
As a discipline, midwifery pre-dates hospitals; today, midwifery has evolved beyond caring for a woman during birth. CNMs provide routine prenatal and post-natal care, labor and birth care, and post-menopausal care. Nurse-midwives have secured satisfying and challenging employment in private practices, hospitals, birth centers, and health clinics. It is estimated that CNM-attended births account for 7% of all U.S. births in total. Of these deliveries, approximately 97% occur in hospitals and 1.8% take place in freestanding birth centers. For more information about the profession, including salary and employment details, please visit the American College of Nurse-Midwives Web site.
The Bureau of Labor Statistics anticipates that the employment growth from 2012 to 2022 for CNMs will be 29%, which is much faster than the 19% growth projected for RNs. The growth in the CNM job market can be attributed to the effects of health care legislation and a stronger emphasis on preventative care. Plus, there is a rising national interest in more natural childbirth experiences.
The Nurse-Midwife DNP is a practice-focused doctoral program that prepares Certified Nurse-Midwives (CNMs) who will be leaders at the highest level of clinical practice. This major in Pitt Nursing's DNP program will enable graduates to attend births in home, birth centers, and hospital settings; provide primary health care for women and newborns; promote, maintain, and restore health while diagnosing and managing health problems in women and childbearing families; participate in quality improvement efforts and lead in mobilizing community health resources.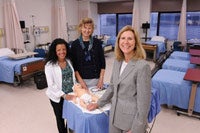 The curriculum explores the art and science of the nurse-midwifery profession including classes on the role of nurse-midwives in population-based health, family-centered care for healthy pregnancy and childbirth, management of women's complex health issues; well newborn care, and high-risk labor and births. Clinical rotations take place in the region's outstanding hospitals, birthing centers, and health practices including Magee-Womens Hospital of UPMC, the Midwife Center for Birth & Women's Health, and the Allegheny County Health Department.
Additional course/clinical work for the DNP degree provides further knowledge focused on using evidence in clinical decision-making, developing leadership skills, implementing viable clinical innovations, and applying research and theoretical understanding to facilitate changes in practice. A culminating DNP project reflects the student's application of knowledge gained during this program, focusing on a quality-improvement effort, surveillance project, program evaluation, or N of 1 study. Students submit at least one manuscript to a peer-reviewed journal.
Full-time study will permit the student to complete the program within three years: part-time study is an option.
Objectives
Graduates of the Nurse-Midwife DNP are prepared to:
Assume independent responsibility for promoting, maintaining and restoring health while diagnosing and managing health problems in women and childbearing families
Participate in multi-disciplinary research and provide leadership in mobilizing health services
The University of Pittsburgh School of Nursing's DNP program was ranked ninth nationwide as part of U.S. News & World Report's 2020 Best Nursing Grad Schools.
Recommended Membership – American College of Nurse Midwives
Accreditation Statement:
Preaccreditation status has been granted by the Accreditation Commission for Midwifery Education (ACME). Students attending the program will graduate fully eligible to take the national certification exam. According to ACME procedures, the program will be reviewed for full accreditation status after the first Nurse-Midwife DNP class graduates. The University of Pittsburgh School of Nursing Nurse-Midwife Doctor of Nursing Practice Program midwifery program is pre-accredited by the Accreditation Commission for Midwifery Education (ACME), 8403 Colesville Road, Suite 1550, Silver Spring, MD 20910; 240-485-1802, www.midwife.org/acme.