School of Nursing Global Experiences
School of Nursing students can participate in a Global Experience (study abroad). We know how many questions can arise when considering studying abroad or committing to a study abroad program. We are here to help answer these questions throughout the entire process.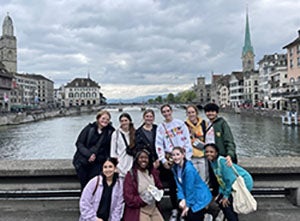 Why should nurses study abroad?

Nursing students who complete learning opportunities in a new environment can gain a deeper understanding of other cultures, particularly for the clinical setting, which provides new insights into healthcare delivery—both at home and abroad.

Indeed, the American Association of Colleges of Nursing (AACN) reminds us that "the environments in which professional nurses practice have become more diverse and more global in nature," and study abroad can prepare nursing students to meet the challenges of future practice in these environments (AACN, 2008, p. 5).

Pitt Nursing students can use study abroad credits toward not only their program requirements, minor requirements, and certificates such as the Global Health Certificate and the National Preparedness and Homeland Security Certificate.

American Association of Colleges of Nursing (AACN). (2008). The essentials of baccalaureate education for professional nursing practice. Washington, D.C.: AACN. Retrieved from http://www.aacnnursing.org/portals/42/publications/baccessentials08.pdf.




Who do I talk to about study abroad?

Prospective or current students should get in touch with the Program Manager, Lynnea Lombardi, for nursing-related global experiences and study abroad programs. You can make an appointment here or email LEL164@pitt.edu.




Can I fulfill general education, senior special topics, major, minor or certificate requirements abroad?

Generally speaking, yes. Your Academic Advisor can help you determine what requirements, if any, will be fulfilled by taking courses abroad. The Study Abroad Program Manager for a given study abroad program cannot make these determinations.




What programs are specifically related to Nursing?

Tentative 2024 Nursing Panther programs include Plus3 Argentina, Plus3 United Kingdom, Healthcare Delivery in Switzerland, Himalayan Health and Wilderness First Responder, and Summer Nursing at Trinity College Dublin.

Apply as a first-year student: Plus3 Argentina: Healthcare Management, Plus3 United Kingdom: Intersectionality at the Crossroads of Education and Healthcare

Apply as a second- or third-year student: Healthcare Delivery in Switzerland*,  Summer Nursing at Trinity College of Dublin, Himalayan Health and Wilderness First Responder*

*Has historically received a competitive number of applications; third-year students may be given priority




What study abroad programs are related to Health Sciences?

There are several programs related to Health Sciences, including Healthcare in a British Context, Healthcare in Graz, Pitt in Bolivia: Culture, Society, and Health, and Public Health Threats in Suriname




What other programs are popular among Nursing students?

We offer several healthcare-related programs for nursing students, but you also can attend non-healthcare related programs. We recommend that you meet with Lynnea Lombardi to assist you in selecting the best program and best time to go abroad.




When is the best time for nursing students to go abroad?

Most Nursing students take advantage of Summer Term programs, particularly in the beginning of May. Although you can go abroad during any term (after earning 24 credits), participating in a study abroad program during a Fall or Spring Term will interrupt your curriculum sequence and extend your time to graduation.




Is there a study abroad program for graduate students?

Selected DNP students in the Nursing Anesthesia program are invited to participate in a three-week program at either Laos Friends Hospital for Children in Luang Prabang, Laos, or Angkor Hospital for Children (AHC) in Siem Reap, Cambodia. Activities for this Monday through Friday rotation include clinical practice at LFHC/AHC under the supervision of nurse anesthetists and teaching under the supervision of University of Pittsburgh Nurse Anesthesia Program faculty at the University of Pittsburgh. LFHC is an NGO on the grounds of the Provincial Hospital in Luang Prabang Province and many pediatric cases in Luang Prabang Province and provinces in Northern Lao are referred to LFHC. AHC is an independent, non-profit pediatric hospital with the mission to improve healthcare for Cambodia's children in cooperation with the Cambodian government. On the weekends, students can explore the local areas by visiting temples, riding bicycles, and visiting museums.




How can I make sure I'm prepared to study abroad?

The most important thing is to apply for a passport if you do not already have one. Passports can take up to 13 weeks to process. We recommend that you apply for one as soon as possible. If you already have a passport, make sure it will not expire before or during your intended program.




How much does it cost to study abroad?

To learn more about the costs of study abroad, please visit the Pitt Study Abroad finance overview webpage. Additionally, you can find the cost of a particular program on it's program page on the Global Experiences website.




Are there scholarships available for study abroad?

Yes. See the Pitt Study Abroad scholarships webpage for a list of available scholarships and their applications. PittFund$Me also includes study abroad scholarships. Keep in mind that scholarships for study abroad are competitively awarded and will not cover the entire cost of a given program. You may be able to earn multiple scholarships for a program. You should make alternative plans for paying for your program in the event that you are not awarded a scholarship. Past Nursing students have funded their global experiences with the Gilman Scholarship, Nationality Room Scholarships, and scholarships from the Office of Global Experiences, David C. Frederick Honors College, and School of Nursing. For scholarship advising, make an appointment with Lynnea Lombardi.