All research activities involving human subjects conducted under the jurisdiction of the University of Pittsburgh must be reviewed and approved by an institutional review board (IRB) prior to data collection. Although most educational research qualify for no, or minimal-risk IRB review, only an IRB may determine the risk level of the research activity. Determine if your project is a human subjects research and needs an IRB review: Do you need IRB review?
University of Pittsburgh IRB Approval Flow Chart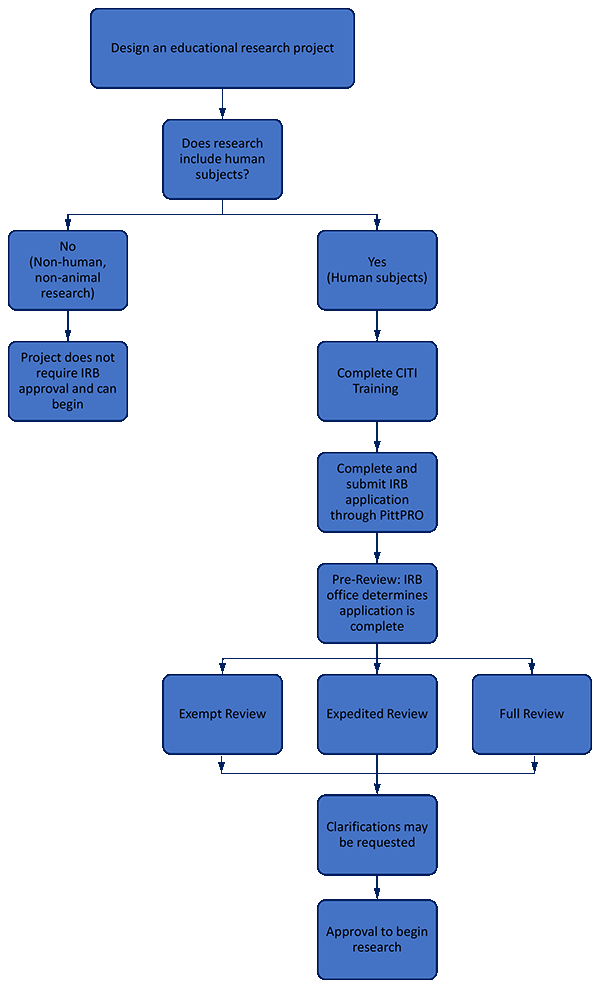 Collaborative Institutional Training Imitative (CITI) Certification
All members of the study team must have current CITI training for the submission to move forward. Follow the instructions to complete the training modules. Detailed information about the required research courses is available on the Office of Research Protections Training Table. CITI offers two human subjects training courses- select "Social-Behavioral-Education".
Essential Training Courses
Responsible Conduct of Research
Conflict of Interest
Human Subject Protections
IRB Submission Process: Pitt PRO process
PittPRO is the University of Pittsburgh IRB's electronic submission and review system for human subject research.  All applications to conduct human subject research, including all study documents, must be submitted and approved through the PittPRO system prior to implementation.
Step 1
Complete CITI Training
https://www.citi.pitt.edu/
Step 2
Login into PittPRO
(Same username & password for CITI Training)
www.pittpro.pitt.edu
Step 3
Build your submission
Click "New Study"
Step 4
Build the application (Pre-Review State)
Complete all the required fields and add team members to build & modify the study
Step 5
Review each section carefully and submit
Refer to the PittPRO Getting Started Guide [pdf] for detailed information on completion of the application. 
Types of Review
There are 3 types of IRB reviews: Exempt, Expedited, and Full Board Review. The type of review is determined by risk level and categories defined by the federal regulations. Most educational research projects will fall under Exempt or Expedited Review. Below is a summary of Exempt and Expedited Review. Click here for the descriptions of the three reviews.
 
Exempt
Expedited
Risk
No risk or minimal risk
Minimal risk 
Categories
Fits 1 of 5 categories
Fits 1 of 9 categories
Informed Consent
Not required
Reguired
Prior scientific review by school/department review committee
Not required
Required
Annual continuing review
Not required
(No expiration date)
Required
Modifications prior to implementation
Not required
Required
Minimal risk is the probability and magnitude of harm or discomfort anticipated in the research are not greater in and of themselves than those ordinarily encountered in daily life or during the performance of routine physical or psychological examinations or tests [45 CFR 46.102(j)]
Recruiting Students
Students, including those enrolled at the University of Pittsburgh, may be recruited to participate in research studies, but are not required to participate as a course requirement unless a similar non-research alternative is offered. Discretion should be used when selecting appropriate students. Please see policy on Research involving Students as Research Participants for more details.
Each project is reviewed independently, and project-specific research designs may require you to contact the IRB directly. Researchers should review the Human Research Protection Office (HRPO) website (hrpo.pitt.edu) or contact the IRB staff for more details (call: 412-383-1480/ email: askirb@pitt.edu).
Please email askirb@pitt.edu with questions or to set up a consultation.  Include the PittPRO study number if you have one.  For technical or account issues, email orp@pitt.edu for assistance.