Pitt Nursing was pleased to host a launch event for a book about the realities of nursing by Theresa Brown, RN. A 2007 alumna of Pitt Nursing's undergraduate program, Brown is perhaps best known for her work as an Op-Ed columnist for The New York Times. 

In her second book, The Shift, released on September 22, she lets readers experience all the life that happens in just one day on a busy oncology ward. The author chronicles 12 hours and introduces us to four very different patients, thereby revealing the skills, sensitivity, and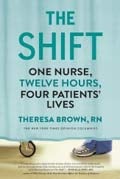 humor that enable a nurse to be a patient's "most ardent advocate in a medical system marked by heartbreaking dysfunction as well as miraculous successes." 
Maureen Shawn Kennedy, editor-in-chief of the American Journal of Nursing, advocates that The Shift become required reading for health care professionals ranging from hospital administrators to medical students because it will help them to better appreciate "all that goes into good nursing and give them another reason to invest in appropriate staffing" as well as to recognize "the intellectual and organizational skills nurses use."  More details about The Shift are here.