Assistant Professor Michael Beach was chosen to speak at the Promise of Nursing for Pennsylvania Gala, hosted by Johnson & Johnson on June 23 in Philadelphia. The event raised funds to address the critical shortage of nursing professionals and nursing educators, which threatens the state of health care in the Commonwealth of Pennsylvania and across the nation. The evening's proceeds will fund nursing student scholarships, faculty fellowships, and grants in Pennsylvania that will help the state to meet the IOM Future of Nursing Recommendations.
Dr. Beach, one of four nurse presenters, discussed his work with the Pennsylvania 1 Disaster Medical Team in Haiti after the 2010 earthquake. He was responsible for triaging and caring for those living in a displaced persons camp, in a region which had no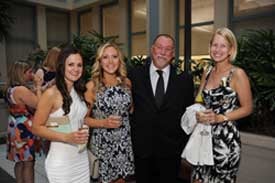 electricity, unsafe structures, and very little in the way of infrastructure. At the gala, Dr. Beach told the audience of the Haitians who dressed up for medical visits, medical team members who took care of patients and each other, and his efforts to make sure that he saw patients as human beings – not just their condition. Although he framed that experience as the most "hellish situation," Dr. Beach asserts that he would go back in a minute. To him, that time in Haiti embodies his philosophy of being a nurse: to help people in the most devastated environment, to take care of each other, and to see and treat the whole patient.