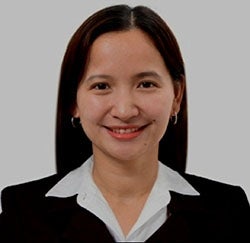 A Pitt Nursing graduate student, who is also a nursing leader in the Philippines, was chosen for a competitive fellowship through the Jewish Healthcare Foundation.
"I am truly grateful and very honored to be chosen as one of the Feinstein fellows for the JHF Patient Safety Fellowship," said Joyzen Cortez-Ramos, an MSN-CNL student from the Philippines. "This is the first time I will be joining a fellowship program so I am very excited to experience how it will help me hone my clinical knowledge and skills in improving delivery of safe patient care."
The Jewish Healthcare Foundation's 2022 Patient Safety Fellowship will address the safety of patients and healthcare workers due to medical errors, which they say has worsened due to the pandemic.
According to the JHF, "this year's Patient Safety Fellowship will take a fresh look at promising solutions from some of the best thought leaders in health care and weigh their merits. Through a flip-the-classroom model, fellows will have access to a collection of newly created material across emerging topics impacting patient safety to guide the ongoing discussion. Over the course of the summer, fellows will have the opportunity to speak directly with regional and national experts, apply critical thinking to build a safety agenda for the future, and develop practical skills to promote change."
"As a local Nursing leader in the Philippines, I am hoping to gain more knowledge and understanding of healthcare concepts concerning patient safety through the expertise of our esteemed educators and the resources that will be provided," said Cortez-Ramos. "Patient safety has been one of the pillars of caring but is often neglected due to unacceptable working conditions of the nurses particularly in developing countries such as the Philippines. I am aiming to maximize this learning opportunity so that I will be able to share valuable learnings to my colleagues both from Pitt and my home country and stimulate and effect culture change in our local health systems."
"We base our acceptances on the strength of applicants' professional and educational experiences, the strength of their recommendations, and their expressed interest in their cover letters," said Steven Guo, Health Innovation & Technology Associate with the Jewish Healthcare Foundation. "Additionally, what stood out about Joyzen was her clear desire to learn about patient safety in the US with the intent to translate those learnings back to her home country of the Philippines."
Cortez-Ramos is completing her master's through Pitt Nursing virtually from the Philippines. The second-term student, who is expected to graduate in 2023, said that because of her involvement in the Philippine Nurses Association, she decided to pursue her postgraduate degree so that she can contribute more to the enhancement of the country's healthcare system. Since Pitt's program is offered fully asynchronously and virtually, it allowed her to also continue working in the Philippines.
"I have chosen Pitt Nursing for my MSN because it offers exemplary and highly competitive Nursing education that caters to the current clinical issues and global health trends," she said. "It molds its students to be better equipped with up-to-date knowledge and skills enabling them to perform their clinical responsibilities dutifully and provide quality and safe patient care following internationally accepted standards."
Cortez-Ramos said choosing Pitt Nursing to further her education was one of the most important decisions she ever made but is one she's grateful for.
"I am very thankful for the privilege of pursuing my MSN in the university," she said. "Not all nurses were given this opportunity to further advance their knowledge in a highly conducive online environment for critical thinking and analysis. The mentors are certified experts in their fields and are very generous in sharing their clinical insights and experiences. I also appreciate the openness to differences in perspectives and inclusivity of everyone. Cultural diversity is celebrated and learned in such a way that fosters understanding and acceptance of individual traits regardless of their social, cultural and even clinical background."
Cortez-Ramos will begin her fellowship virtually in June. The JHF said they've accepted international students in past fellowships, but prior to the pandemic they were required to be based in Pittsburgh.
"When we converted to a virtual model during 2020, it enabled us to be able to accommodate participants from across the U.S. and some from other countries," said Guo. "We're pivoting to a hybrid model with the intention of continuing to allow participants outside of the Pittsburgh region. We are thrilled to have Joyzen participate this summer and look forward to another excellent cohort of fellows and an engaging fellowship program. At the end of the day, that is what we want these fellowship opportunities to be, serving as pathways to provide enrichment for fellows to change healthcare for the better as the future healthcare workforce."
Guo said they typically accept around 30 fellows for each of their Feinstein Fellowships (Patient Safety Fellowship, Salk Health Activist Fellowship and Death and Dying Fellowship). For more on the Fellowships: https://www.hcfutures.org/fellowships/patient-safety