A first year Pitt Nursing CRNA Nursing Anesthesia student was nationally recognized by the American Association of Nurse Anesthesiology (AANA).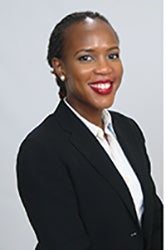 Jacqueline Sergon's essay, "The Steep Price of Racial Color Blindness in Pulse Oximetry Accuracy," won the national student writing contest and was just published to the AANA's website.
"My reaction was very much happiness and excitement for myself, my family and my team," said Sergon. "I'm so grateful for Dr. John O'Donnell, who is really the creative architect of this initiative from its infancy, for my research team including Dr. Joseph Goode, Dr. Elizabeth Schlenk and Kyara Francis, with whom we are collaborating, for the School of Nursing and Pitt for the recognition it deserves. And finally, for the impact my research project has had on lay people so far and will continue to have in the future."
Sergon's research topic, which is also the core of her DNP project, is on the embedded racial bias of pulse oximeters and how long-standing research has determined them to yield inaccurate oxygen saturation results in patients of color.
"We found they tend to overestimate O2 levels when the patient is actually saturating <90%, therefore increasing risks of clinical hypoxemia," said Sergon. "Faced with this damning evidence, we are trying to determine possible solutions that can be successfully integrated in the clinical realm among CRNAs, and others in the future, to better predict oxygen saturation levels and thereby improve patient outcomes."
Sergon said she hopes that by being selected as an AANA winner it will add greater exposure to this subject and the urgent need for systemic reform.
"It's really fascinating to read about all the ramifications the faulty oximeters have had on patients of color, especially during the pandemic when they were the main currency for hospitalized and home-quarantining patients and knowing that manufacturers have continued to churn out the oximeters with FDA approval fully knowing that they have not been tested sufficiently on patients of color/racially diverse subjects," said Sergon.
You can read Sergon's award winning essay here.