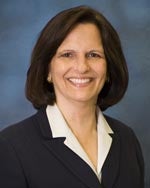 Congratulations to Professor Catherine Bender of the School of Nursing on securing funding from the National Cancer Institute (part of the NIH) for her project on Influence of Exercise on Neurocognitive Function in Breast Cancer. The project aims to determine if moderate aerobic exercise will improve cognitive function, particularly memory, attention and executive function related to endocrine therapy in postmenopausal women with breast cancer. The grant, in excess of $600,000, will support a clinical trial in which post-menopausal women with early stage breast cancer are randomized to receive a 6-month, moderate-intensity aerobic exercise intervention or usual care. The trial seeks to determine if the intervention improves cognitive function compared to usual care during hormonal therapy and to map the direct effects of exercise on neuroimaging metrics of brain health. Another goal of this five-year project will be to assess the impact of exercise on cognitive function in light of symptoms such as fatigue, sleep problems, depression, and anxiety.
Bender has contributed significantly to the study of changes in cognitive function and mood in patients with cancer. She was the principal investigator on two  NCI grants examining the effects of the endocrine therapy, anastrozole, on cognitive function in women with breast cancer, co-PI for a grant from the Oncology Nursing Society Foundation on the genomics of cognitive function in breast cancer, and PI for a project funded by the National Institute of Nursing Research on routinization intervention to improve adherence to complex medication regimens. She has published extensively in prestigious journals including Cancer, Oncology Nursing Forum, Psycho-Oncology, Journal of Clinical Oncology, and Seminars in Oncology Nursing, ,. Her work has been presented at the San Antonio International Breast Cancer Symposium, the Annual Congress of the Oncology Nursing Society, and the National State of the Science Congress in Nursing Research.
Dr. Bender is a professor in the School of Nursing and the Director of the School's PhD Program. She began her career as a nurse and a clinical nurse specialist in oncology in Ohio, including serving as the Assistant Director of Nursing for Oncology at Cleveland Metropolitan General Highland View Hospital. You can learn more about her research on Dr. Bender's Web page.