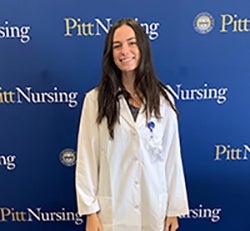 The University of Pittsburgh's Year of Emotional Well-being has chosen 14 projects to fund through its first round of grants, including a Pitt Nursing student's proposal to add a Sleep Center in the Victoria Building.
"I was so happy! I received the email that the project was chosen during winter break," said Emma Zarett, BSN '23, the brainchild behind The Sleep Center. "I was so excited. I mostly now am eager to start implementing the center and setting it up."
Zarett said when deciding what to write her proposal on, she wanted to focus on what she thought nursing students needed that could positively impact their mental health. Zarett consulted with the mental health committee through Pitt Nursing's Nursing Student Association and came up with creating a Sleep Center, something many other colleges and universities have also implemented.
"Our thought was, why not us," said Zarett. "The center is extremely important to be me because I know first-hand how hard it is to manage sleep as a nursing student. With our clinical hours, class schedule, workload, extracurriculars, and jobs, it makes it nearly impossible to get adequate sleep. The sleep center helps solve this problem by allowing students to take a "power nap" and recharge at any point throughout the day (when the building is open). It also is available for students who need some time to meditate and de stress."
The Year of Emotional Well-being initiative through the provost's office awards up to $5,000 to support projects that focus on ways to restore and enhance emotional well-being. Zarett's Sleep Center project was awarded nearly $900 for the Sleep Center. The money will be used for sleeping mats, pillows, blankets, sleeping masks, ear plugs and various items for décor.
Zarett was awarded the grant at the beginning of 2023 and said they're waiting on Dean Christine E. Kasper to assign a room in the Victoria Building to use as the Sleep Center.
"Once we get our room assignment, we can start buying products and moving them into the space," said Zarett. "The budget I made was designed so I could buy all the things we need through Amazon. Once everything is shipped and delivered, the mental health committee and I will begin setting up. The goal is for the sleep center to be ready by the end of spring semester."
For more information on the projects funded by the Year of Emotional Well-being: https://www.utimes.pitt.edu/news/fourteen-projects-funded