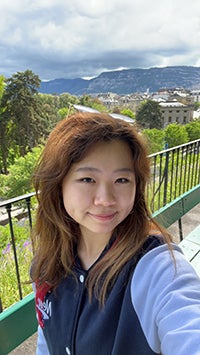 A third-year Pitt Nursing student is one of fifteen at the University of Pittsburgh receiving a Benjamin A. Gilman International Scholarship. 
Michelle Chung, BSN '25, said she was in her Bern, Switzerland, hotel room during her study abroad trip when she received an email from the Gilman scholarship program. 
"I opened the letter telling me that I was accepted, and I was ecstatic," she said. "I was overwhelmed with joy then and still am now since this scholarship determined the affordability of my study abroad experience." 
The Gilman Scholarship supports undergraduate students receiving Federal Pell Grants with up to $5,000 as they study abroad. Chung pursued the "Healthcare Delivery in Switzerland" program without any financial burden because of the scholarship. 
"I learned about many aspects of Swiss healthcare, such as the apprenticeship nursing education system, advancements in healthcare technology, medical grade heroin treatment, and an open-door approach to mental health centers," said Chung. "Switzerland has been inspired by medical advancements from America, such as PICC lines (which have surprisingly only recently been implemented in Swiss hospitals), but America also has a lot to learn from Switzerland. From their humanistic approach to mental health and addiction treatment to their innovations for determining the malignancy of a cancer cell, American healthcare has a lot to benefit from Switzerland's medical practices." 
Chung was in Switzerland from May 1-14 and visited Zurich, Basel, Interlaken, Staufen, Geneva, and Montreux. She spent time at the United Nations headquarters, the World Health Organization, the University Psychiatric Clinic in Basel, the Institute of Nursing Science, the Janus heroin treatment center, and many more educationally enriching sites. 
"Thanks to my wonderful study abroad advisor Lynnea Lombardi and the Gilman Scholarship, I was able to pursue healthcare education abroad without financial burden," she said. "I also ate a lot of Swiss cuisines such as raclette, rosti, and fondue. My favorite memory would have to be of all my classmates at the farewell dinner on the last day, giving our Professors, Dr. Christopher Imes and Dr. Jennifer Seaman, souvenirs to thank them for their work."
According to The U.S. Department of State's Bureau of Educational and Cultural Affairs, since the program's inception in 2001, more than 38,000 Gilman Scholars from all U.S. states, the District of Columbia, Puerto Rico, and other U.S. territories have studied or interned in more than 160 countries around the globe. The Department of State awarded over 3,600 Gilman scholarships during the 2022-2023 academic year.
To learn more about the Gilman scholarship, and its recipients, including this newest cohort from the University of Pittsburgh, visit gilmanscholarship.org.