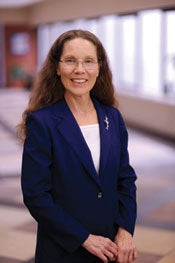 Position: Associate professor, Department of Health Promotion and Development
Specialty: Women's health and pregnancy
Back Story: In the mid-1980s, after earning her BSN, Founds went on to become certified as a nurse-midwife and a family nurse practitioner. "I wanted to take care of the pregnant woman in the context of her family," Founds says, "although most advanced practice nursing positions tend to be one or the other."
Class Act: Founds teaches women's health as well as the adult, acute and chronic clinical and role practicum courses in the Doctor of Nursing Practice program. She also is in clinical practice at a student health service and at Magee Womens Hospital of UPMC OB-GYN out-patient clinics. "Students appreciate when I discuss cases from my clinical practice to give concrete scenarios that illustrate or exemplify the theoretical content," Founds says.
Investigations: Founds' research focus is on genetics and the pregnancy disorder preeclampsia, particularly basic molecular genetic research in the placenta. "Preeclampsia has implications for lifelong cardiovascular health risk factors for women," Founds says. Recently, she was awarded a highly competitive NIH R03 grant for a pilot project to localize preeclampsia candidate genes in first-trimester placentas.
Of Note: Founds says that clinical sites appreciate the quality of Pitt students due to their preparation: "They're getting the theory, and then they're in practice situations where they're getting to apply it. I think we're doing that really well. I personally like the way the clinical experience is constructed in the series of three clinical practice levels."
Standouts: Founds' honors include the 2012 International Society of Nurses in Genetics Founders Award in research.
First published in Pitt Nurse magazine, Fall 2014