A selection of program reviews from current DNP students and recent DNP graduates: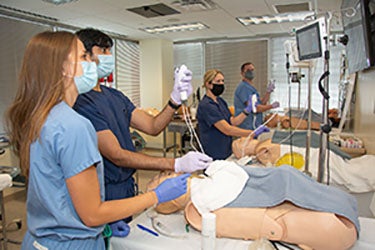 What current Pitt students are saying:
This program is fantastic. The didactic instruction is thorough, the instructors are knowledgeable, and they are all very invested in their students' success. I love how the program structure is front-loaded, and I think that it helps ease students into a rigorous program. In many years of college at other institutions, I have never felt more supported than I have at Pitt - for all aspects of earning my DNP. I have no doubt this program will more than adequately prepare me to be a leader in this field
The didactic and simulations are relevant, and I felt like I had a very strong knowledge base for beginning clinical.
 The clinical experience students receive at Pitt is truly second-to-none, and includes dedicated pediatrics and specialty (open hearts, craniotomies, transplants, etc.) rotations that many other programs don't offer.
I am graduating in 5 months and I feel like when I start my first job I will be well equipped to handle whatever cases come my way thanks to my clinical and didactic education in the Pitt Nurse Anesthesia Program.
I have received multiple comments from current CRNAs and anesthesiologists who say that Pitt SRNAs are consistently just a high caliber student who can be trusted in the clinical setting.
The CRNAs who lecture on various topics throughout the program, who are not faculty but primarily work clinically at many of our clinical sites, always provide very informative content and always make themselves available to answer questions. While the faculty deliver excellent material, didactic learning from non-faculty CRNAs really brings an extra clinical focus to the classroom.
As a prior service Army veteran, having faculty and leadership that supported its students was crucial in selecting a program.
At the University of Pittsburgh, I always feel that the faculty value what the students have to say and are always looking after our best interests to successfully make it through the program.
The nurse anesthesia program at Pitt is best described as the perfect integration of simulation, classroom and clinical learning. I felt fully prepared for the high-quality clinical experiences that the program provided from day one because of the classroom education and simulation exercises.
The nurse anesthesia program at Pitt provides the unique opportunity for students to practice anesthesia abroad. As a student I was able to travel to Cambodia and provide anesthesia to pediatric patients. This experience was invaluable and helped me to build new skills as an anesthetist.
I am a first year student.  When looking at continuing my education I wanted to make sure I found a school that set me up for success. After looking at other what programs had to offer University of Pittsburgh was the only choice for me. They have helpful and invested faculty that help to prepare you both for the clinical and academic portions of school. That is why there is nowhere that I would rather get my education than from the University of Pittsburgh.
I believe the University of Pittsburgh Nurse Anesthesia DNP Program offers a top notch educational experience that is second-to-none.  The program offers access to world-class clinical settings within a few minutes of campus and valuable simulation experiences within the School of Nursing Building and at the WISER Institute.  On top of this, you are taught by dedicated faculty who make it their goal to ensure your success in both the academic and clinical arena.  I can say with confidence that I made the correct choice to study anesthesia at the University of Pittsburgh.
My experience in the University of Pittsburgh Nurse Anesthesia DNP program has met and surpassed every expectation I had. The clinical experience, curriculum, simulation sessions, and the dedicated faculty have offered me every avenue and countless opportunities to succeed. I first encountered the program in my undergraduate shadowing experience and the program director, John O'Donnell, made a statement that if you are accepted into the program, they are going to make you a great anesthetist. I remembered that statement when applying to different schools, and it was one of the many reasons I chose to pursue my degree here. I can now say that his statement held true. The transformation you see in yourself personally, professionally, and academically during this three-year program is one of the most rewarding experiences I have had in my life and pushes you to achieve your goals and then exceed them.
I would not have chosen any other CRNA program. The clinical experience is unparalleled, including an international pediatric experience. Almost all the clinical sites are within the city of Pittsburgh, making commuting very easy! In fact, I didn't even have a car-- I rode my scooter and the bus everywhere! The faculty are all still practicing clinicians. I enjoyed working alongside them, learning from them both in the classroom and in the operating room. Faculty were always approachable, responsive, and communicated well with students. I appreciated that Pitt's program maintained a reasonable schedule so that heavy didactic and clinical training could be balanced with personal life. They also gave students time off to attend national anesthesia meetings. I never really felt too overwhelmed because I always felt supported through my journey. Finally, Pitt gave me the freedom to explore other opportunities outside of anesthesia. I was elected as a class officer and as the Graduate Nursing Student Organization president, where I learned to organize volunteer and social events for all students.
What Pitt DNP Alumni are saying:
The simulation experience at Pitt was a major highlight of my training. Simulation was incorporated early in the curriculum and provided a foundation of confidence and smooth transition into the clinical setting.
The extra-curricular opportunities and faculty support for professional growth are unparalleled. I am grateful for the multiple international opportunities I was presented at Pitt. Attending the United Nations' World Health Assembly in Geneva, Switzerland and training with CRNAs in Siem Reap, Cambodia provided invaluable perspective I carry with me today.
My Pitt education (BSN 96, MSN 99, DNP 16) has certainly been the springboard for my career success. In particular, though, my DNP positioned me well for leadership, teaching, and research roles that comprise my current job. I've been able to contribute more readily to nursing scholarship and education, foster and mentor the academic success of current nursing doctoral students, and play a pivotal role in health policy and economics. The Pitt DNP prepares nurse anesthetists to lead in all aspects of the profession, which is a critical need in today's health care environment.