Helene M. Burns MSN, RN, NEA-BC
2018 Program Alumni - DNP Health Systems Executive Leadership,
Chief Nurse Executive
Jefferson Health New Jersey

The demand for change in how health care is defined and delivered has never been more pressing. The DNP Program concentrated on Health Systems Executive Leadership prepares nurses to function in executive leadership and management roles that focus on creating or redesigning systems to meet the demands of the emerging healthcare market.
Graduates of this program will lead the transformation of health care as chief executive officers, chief nursing officers, and executive directors of quality, clinical informatics, population health, and clinical practice in hospitals, ambulatory clinics, and non-profit and governmental organizations. Our faculty have extensive experience in leadership of clinical systems, executive practice, professional communication and development, and health policy.
This post-master's program is designed for students with at least two years of management experience. Coursework can be completed on a full-time or part-time basis. This program is fully online and does not require on-site participation. The DNP HSEL curriculum focuses on the knowledge and skills needed to lead complex clinical environments effectively including:
Understanding organizational behavior;
Implementing evidence-based management, practice, and quality improvement;
Integrating leadership in complex systems;
Utilizing principles of finance and healthcare economics;
Facilitating health policy
Incorporating data analytics and population health into clinical systems design.
Students complete a leadership practicum or residency with a senior-level mentor. The DNP HSEL student completes a DNP project focused on a system-level practice change. The DNP project is a rigorous investigation of a clinical concern or issue that results in the translation of evidence into practice. The DNP project should result in a new or expanded area of expertise for the student and serve as a foundation for future scholarship and practice.
Sample DNP Projects Completed by DNP HSEL Graduates
The relationship between nurse manager transformational leadership practices, nurse-sensitive outcomes, and RN satisfaction
The Health Connections Center: An academic community partnership to address the health and resource needs of individuals experiencing food insecurity
Improving the use of evidence-based practice and research utilization through the identification of barriers to implementation in a critical access hospital
Identifying exemplars of high performing behaviors and factors of sustainability among nurse managers in one multi-designated Magnet® organization
Customize Your Program
Take advantage of other academic programs at Pitt to tailor your learning to meet your future goal. Students may pursue course work, a certification, or a joint degree through the Katz School of Business, School of Education, School of Law, Graduate School of Public Health, or Graduate School of Public and International Affairs.
Joint Doctor of Nursing Practice/Master of Public Policy and Management
Students in the DNP program may pursue their degree concurrently with a Master of Public Policy and Management from the University of Pittsburgh Graduate School of Public and International Affairs (GSPIA). This joint degree combination may be completed full-time or part-time, either in a 100 percent on-campus or a 100percent online format. The program is ideal for mid-career nurses, health care managers, and individuals working in charitable organizations that provide health care abroad. For details and a sample plan of study, click here.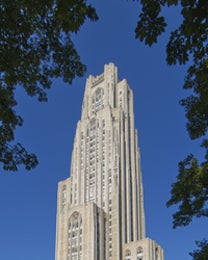 Students are encouraged to discuss their professional experience and individual career goals with their faculty advisor.
Want to learn more about our program? Click on the links below for more information about this exciting program!
Beginning Fall 2017, out-of-state tuition rates for online cohorts will match the in-state rate.
Accreditation Statement:
The Doctor of Nursing Practice degree program at the University of Pittsburgh School of Nursing is accredited by the Commission on Collegiate Nursing Education (http://www.ccneaccreditation.org)
from 02/24/2014 through 12/31/2024