You can learn more about our other Nurse Anesthesia Programs: MSN to DNP (online) degree program.
The School of Nursing's Nurse Anesthesia graduate program has an outstanding national reputation. Pitt's Nurse Anesthesia Program is one of only a small group of programs that have been ranked in the top 10 of US Nurse Anesthesia programs since 1998 -- the first year that such programs were ranked.
All our Nurse Anesthesia programs are fully accredited by the Council on Accreditation of Nurse Anesthesia Educational Programs (COA) of the American Association of Nurse Anesthetists until 2019. Pitt Nursing developed the BSN to DNP program in accordance with the American Association of Nurse Anesthetists (AANA) mandate that doctoral education is required for entry into nurse anesthesia practice. Graduates of this DNP program are eligible to take the National Certification Examination administered by the National Board for Certification and Recertification of Nurse Anesthetists (NBCRNA): our first time pass rates are consistently above the national average and well above the threshold of 80% established by the COA in 2016.
Nurse Anesthesia practice covers the continuum of care from pre-operative assessment to discharge from the recovery unit. Nurse anesthetists interview and assess each patient to best formulate and implement an individualized plan of care while collaborating with members of a multi-disciplinary health care team. This DNP program prepares students through course work that develops knowledge and skill in anesthesia practice as well as in
organizational and leadership skills. The rigorous curriculum features courses addressing chemistry and physics of anesthesia, advanced pharmacology, advanced physiology and pathophysiology, basic-to-advanced principles of anesthesia care, anesthesia technology, and the professional role. Courses in this practice-focused doctoral program cover the evidence base for practice, organizational and systems leadership, informatics, patient care technology for the transformation of health care, health care policy and finance, clinical error prevention, patient safety and population health, and interprofessional collaboration for improving patient and population health outcomes. By the end of the program, students will have managed more than 800 anesthesia cases and documented more than 2500 clinical hours.
The Pitt BSN to DNP program is 86 credits and is offered on-campus on a full-time basis (9 terms over three years). Personalized advising helps each student to acquire the right mix of clinical experiences to augment didactic coursework and prior professional experiences.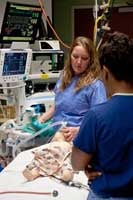 Graduates have the opportunity to practice in traditional hospital operating suites; ambulatory surgical centers; in the offices of dentists, podiatrists and pain management specialists; or in a wide variety of settings including the U.S. military and Public Health Services. The Bureau of Labor Statistics projects that employment for Nurse Anesthetists will grow 31% by 2024. The AANA documented that the mean total compensation for full-time CRNAs in 2017 was over $170,000.
To all Nurse Anesthesia student applicants. The Council on Accreditation of Nurse Anesthesia Educational programs requires that we inform all applicants and current students that as of January 1, 2022- all students matriculating into an accredited program must be enrolled in doctoral study. The University of Pittsburgh Nurse Anesthesia Program transitioned to the BSN to DNP entry program in January 2017 with our first cohort scheduled to graduate December 2019. The last University of Pittsburgh BSN to MSN cohort is scheduled to graduate in December 2018.

MSN to DNP Curriculum (online)
(the online option is only available to applicants with a master's degree in same focus)