Janice A. Selekman, BSN '69, DNSc, NCSN, FNASN
Professor
University of Delaware School of Nursing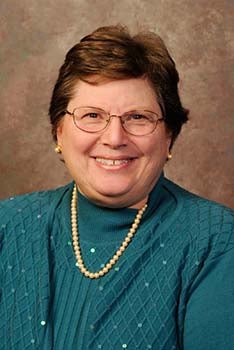 Janice Selekman earned her BSN in 1969 from the University of Pittsburgh School of Nursing. She has her MSN from the University of Pennsylvania as a Clinical Nurse Specialist in Nursing of Children, and for her entire career has focused on the needs of children and youth and those who care for them; her doctoral degree is also from Penn Nursing. Her leadership spans from education as director of the Nursing program at the University of Delaware, to one of the leaders of the fledgling Society of Pediatric Nurses, to one of the most well-known and respected names in school nursing.
With hundreds of national keynote presentations, Selekman is known as being state-of-the-science and always ahead of the curve. She has led the way in introducing topics to multiple audiences of nurses, even when these topics had not yet reached nursing education or nursing publications. These included sexuality education, HIV/AIDS, learning disabilities, Attention Deficit Hyperactivity Disorder, cutting, vaping, mental health in children, transgender youth, and body piercing and tattooing—which are all now common topics. Selekman was among the first to clarify these concerns for pediatric nurses in both publications and presentations.
She is best known as one of the most respected leaders in school nursing, by taking the scope of practice within that specialty and developing the first (and only) comprehensive textbook for the National Association of School Nurses that has served as an everyday resource for the practicing nurse, a textbook for those studying to enter the specialty of school nursing, and the state-of-the-science of school nursing in courts of law. This accomplishment has earned her multiple awards and honors. In addition, she has written certification review books for both pediatric nurses and school nurses to assist them in achieving national certification.
Selekman has been recognized for her distinguished teaching, service and scholarship by the National Association of School Nurses, the Society of Pediatric Nurses, the National Board for the Certification of School Nurses, Thomas Jefferson University, and the State of Delaware. She was inducted as a Fellow in the National Academy of School Nurses.
In the celebration of the 50th anniversary of the National Association of School Nurses, Selekman was identified as one of the key individuals who has moved the specialty of school nursing forward. She now is working to encourage nurses in different specialties, such as pediatric nurse practitioners and pediatric surgical nurses, to communicate with each other to facilitate transition of care from hospital and primary care practices to the schools.