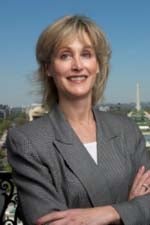 Congratulations to Deborah E. Trautman (MSN '87), PhD, on being appointed Chief Executive Officer of the American Association of Colleges of Nursing (AACN). AACN is a national organization representing 750 institutions offering baccalaureate and graduate nursing education. Dr. Trautman previously served as the Executive Director of the Center for Health Policy and Healthcare Transformation at Johns Hopkins Hospital, where she worked with leaders in the health care industry to increase public and congressional understanding of issues in this complex field. Prior to heading up the Center, she served as the Vice President of Patient Care Services for Howard County General Hospital and as Director of Nursing for Emergency Medicine at Johns Hopkins Hospital.
This 2007-08 Robert Wood Johnson Foundation Health Policy Fellow contributed to the shape and promotion of the Affordable Care Act legislation; she also worked with the Honorable Nancy Pelosi, then the Speaker of the U.S. House of Representatives, as the national health care debate took place. She is an advisory board member and chair for Academy Health Interdisciplinary Research Interest Group on Nursing Issues. Dr. Trautman was a Magnet Appraiser Fellow for the American Nurses Association's Credentialing Center Commission on Accreditation and an advisory committee member for the navigator and enrollment committee of the Maryland Health Insurance Exchange.
Dr. Trautman is well known for her strong publication record dealing with health policy, intimate partner violence, clinical competency, change management, and consolidating ER services to name just a few.
The faculty, staff and students of the School of Nursing are pleased to offer their best wishes to Dr. Trautman as she takes on this exciting new position.