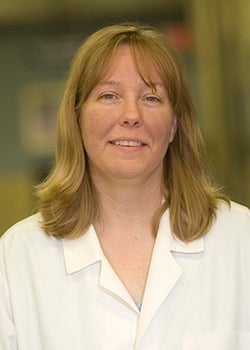 A University of Pittsburgh School of Nursing professor is receiving top honors from the Eastern Nursing Research Society (ENRS).
Yvette Conley, PhD, FAAN, was awarded the 2022 ENRS Distinguished Contributions to Nursing Research Award by the ENRS Awards Committee. The award is given every year in recognition of sustained and outstanding contributions to nursing research by a Senior Investigator.
"I am incredibly honored to be recognized by the Eastern Nursing Research Society, a leader in advancing nursing research," said Conley. "Receiving this award acknowledges my contributions to nursing research, which is meaningful to me beyond words."
Conley, professor and Vice Chair for Research in the School's Department of Health Promotion and Development, has received significant federal funding (including five R01s, 2 R21s and 1 T32 from the National Institutes of Health) for her genomic and epigenomic studies of patient outcomes after traumatic brain injury, stroke, and cancer treatment. Her research interests are in the field of molecular genetics, and she has a fully equipped molecular genomics laboratory within the School of Nursing.
"The goal of my research is to develop precision health algorithms and evidence-based nursing practice that brings together biology and behavior and the lived experience to better understand the determinants of health and wellness in a variety of populations," she said. "I owe this holistic view to the nurse scientist colleagues and nurse scientists in training with whom I've had the great fortune of working. I am, and will remain, a strong advocate for nursing's involvement in precision health initiatives. Nurse researchers are uniquely qualified to develop the evidence supporting holistic precision health care, implement holistic precision health care, and impact policy at all levels to ensure that every patient, family, and community has access to precision health care."
Conley will be honored during the ENRS 34th Annual Scientific Sessions during the Outstanding Research Awards Presentation in Providence, RI on March 31.
The ENRS is comprised of RNs and others interested in promoting nursing research.