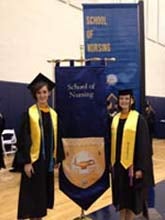 On April 24th, the School of Nursing hosted its April Graduation and Pinning Ceremony at the David L. Lawrence Convention Center. The ceremony honored those students who graduated, or registered for graduation, in August 2014, December 2014, April 2015 and August 2015. 
Remarks were offered by Jaqueline Dunbar-Jacob, Dean and Distinguished Service Professor of Nursing; Loren H. Roth, MD, MPH, Associate Senior Vice Chancellor for Clinical Policy and Planning, Health Sciences, University of Pittsburgh; and faculty members from the School's various degree programs and academic departments. In addition, students from both the undergraduate and graduate programs presented their own congratulatory remarks to their peers: BSN graduate Jenna Zaldonis (Pittsburgh campus); Cassandra Stein (BSN graduate from the Johnstown campus); and DNP student Melissa Sue Connelly. 
The keynote address was given by Deborah Trautman (MSN '87), PhD, RN, who currently serves as Chief Executive Officer of the American Association of Colleges of Nursing (AACN) and Alumni Remarks were presented by Theresa Steele-Austin (BSN '85).
Nursing's Spring Graduation Ceremony includes two very special and long-lived traditions – pinning and the Passing of the Light. Pinning marks the successful completion of undergraduate studies and symbolizes welcoming the new graduates into the nursing profession. The Passing of the Light ritual features outstanding students from the previous year acting as Keepers of the Light and passing the light (representing the light of nursing and the core values gained at the School of Nursing) to the next generation.  The 2014 Keeper of the Light was Rebecca Sponberg; she led the ceremony, passing on the light of nursing knowledge to the 2015 Keepers, Annie Krzan and Nicole Volkman.
In addition to celebrating the newest alumni graduates, School presented several awards to the graduating students, recognizing their accomplishments and endeavors as well as their commitment to efforts that go beyond coursework requirements:
Mary Cawley Sligh -- Undergraduate Outstanding Community Service Award
Jenna Zaldonis – Undergraduate Outstanding Research Award
Abigail Slocum – Nursing Student Association Professionalism Award
Jillian Lackner -- Graduate Outstanding Practice Initiative Award
Jennifer Seaman -- Outstanding Research Award
Anthony Chao -- Graduate Nursing Student Association Award.
The faculty, staff, and administration of the School of Nursing congratulates all those who celebrated with us at the 2015 Spring Graduation and Pinning Ceremony!