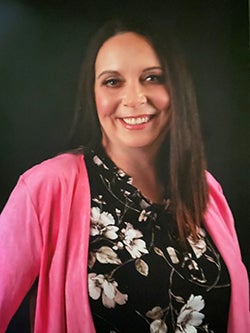 The American Association of Nurse Anesthesiology (AANA) has recognized a Pitt School of Nursing Alumna with one of its top honors.
Lt. Col. Laura Wiggins (DNP '17), CRNA, received the Daniel D. Vigness Federal Political Director Award, previously named the Federal Political Director of the Year Award. The award, renamed in 2013 in memory of its first winner, is given to an individual who has made "significant contributions to the advancement of the national healthcare agenda of CRNAs through by coordinating grassroots CRNA involvement at the state level or through special contributions to the federal political process," according to a release from the AANA.
"It is an honor to receive the Federal Political Director Award. Promoting and safeguarding the profession and helping to work towards regulations and legislation that allow CRNAs to practice at their full scope has been both an honor and a privilege," Wiggins said in a release. "However, all my work could not be accomplished without the support of the Pennsylvania Association of Nurse Anesthetists and my employers. I thank them for providing me with the resources and time to build the relationships that have allowed me to be a successful advocate for all CRNAs."
Wiggins is staff CRNA with the University of Pittsburgh Medical Center in Pittsburgh, former Chief Nurse for the 911th Aeromedical Staging Squadron and former Critical Care Air Transport Team member in the U.S. Air Force Reserve. She's also the Federal Political Director for the Pennsylvania Association of Nurse Anesthetists (PANA) and serves of the Board of Trustees.
In 2019, Wiggins coordinated more than 180 CRNAs and students enrolled in nurse anesthesiology programs to lobby in Harrisburg. As chief nurse for the critical care transport team in the U.S. Air Force Reserve, Wiggins has been deployed to support several missions around the world.
Wiggins has been praised for her hands-on leadership during the early stages of the COVID-19 pandemic. As a member of the Board of Trustees for PANA, Wiggins used her military skills to review mask options and determine the best fit for PANA members safety. She helped create a 3D mask and more than 1200 were shipped around the state.
Wiggins is a clinical instructor for the School of Nursing's Nurse Anesthesia Program. She supervises more than 60 medical military personal as a critical care nurse for the Air Force Reserves, while managing all nursing services and flight member activities. She is also an independent contractor with Anesthesiology Services Network.