Brianna Brizzi was attracted to the University of Pittsburgh for many reasons, most notably a top-10 ranked program she had aspirations to enter.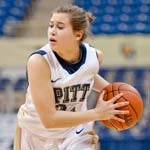 A Warrenton, Va. native, Brizzi had always longed to attend Pitt. Her father, Wayne, was raised in the Pittsburgh area and her late grandfather, Sherman, attended the school and was a coach, teacher and principal in West Newton, Pa.
That coupled with the fact that Pitt is home to one of the best basketball facilities and elite nursing schools in the country, made it an attractive option.
"Pittsburgh is awesome and I really wanted to come here," Brizzi said. "My dad is from the area and my grandfather went to school at Pitt too so I had always been a Panthers fan growing up. It's a dream come true to be here, I love it."
But her route to the Pitt women's basketball team is one that's a bit more unconventional than that of a typical walk-on.
"I was a babysitter for LPGA tour player Kris Tschetter and she knew I played basketball," Brizzi added. "I told her my dream was to walk-on at Pitt. She told me she knew Jamie Dixon (they both attended TCU) and that she would send him a letter about me."
Brizzi enrolled at Pitt content in her future life as student.
"I walked into (associate head coach) Patty Coyle's office and introduced myself," Brizzi said. "But she already knew who I was because Coach Dixon had passed along the information to the staff that I was interested in walking onto the team.
 "That really helped me out because I wasn't just a random student trying to walk-on. The coaches knew that I was already interested in playing and being a part of the team. They understood that basketball is a big part of my life."
A four-year letterwinner at Fauquier High School, where her dad has been the head coach of the boys team since 1988, Brizzi averaged 17 points, 4.5 rebounds and three assists per game during her senior season and was named the team MVP.
The 5-foot-6 guard described herself as a player who values taking care of the ball and getting her teammates involved in the game.
In her first season as a Panther, the coaching staff and her teammates alike have showed overwhelming support both of Brizzi the athlete and Brizzi the student who is managing a tremendous workload.
Brizzi has 8 a.m. classes four days a week, and her rigorous course load and class schedule force her to miss practice on occasion. When that occurs, Brizzi often makes up for the missed time by working out on her own.
"The team is more supportive of it than I ever would have guessed," Brizzi said. "I might have to miss a practice for class every once in a while and everyone is so understanding. They're always checking in on me academically to see if I need help with anything." While Brizzi does all she can on her own to make the grade, she will be the first one to credit Pitt's academic support staff for aiding in her success.
"Jennifer Tuscano, our academic advisor, has been a huge help and we meet multiple times a week," Brizzi said. "She, along with my tutor in the nursing school have been very supportive." Brizzi's enthusiasm has not gone without notice.
"You can definitely tell she is the daughter of a coach because she understands the game," said Pitt head coach Agnus Berenato. "Brianna has an unbelievable work ethic, is gracious in all that she does and really just wants to compete and make the team better. She is the ultimate team player and I really hope she has enjoyed the experience."
"It's a dream come true to be here. I love it."
Pitt guard Brianna Brizzi