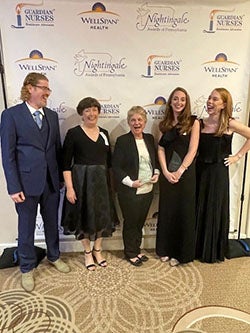 Congratulations to two Pitt Nursing faculty members who were honored at the Nightingale Awards of Pennsylvania's 33rd annual gala and celebration on Friday, October 28.
Catherine Grant, DNP, FNP-BC won the award for Doctorate of Nursing Practice and Teresa Hagan Thomas, PhD, BA, RN won the award for Nursing Education – Academia.
In addition, Elizabeth Moore, BSN, RN, CCRN, was recognized as the 2022 Advanced Degree Doctoral Scholarship winner and Susan Grayson, RN, was recognized for receiving the PhD Scholarship.
Pitt Nursing was well-represented among the finalists for the 2022 Nightingale Awards. Grant Martsolf, PhD, MPH, RN, FAAN, was a runner-up in the Nursing Research category and Laura Fennimore, DNP, RN, CNE, NEA-BC, FAAN, was a finalist in the Nursing Education – Academia category. In addition, alum Frank Ricci, DNP, RN, CCRN-K, NEA-BC, was a finalist in the Nursing Administration – Executive category.
Congratulations to our winners, scholarship recipients and finalists!