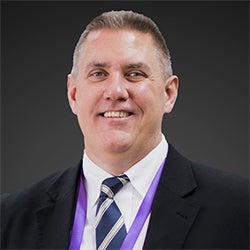 John O'Donnell, DRPH, CRNA, CHSE, FSSH, FAANA, FAAN, professor and chair of the Department of Nurse Anesthesia and director of the Nurse Anesthesia Program, has been elected President of the Council on Accreditation of Nurse Anesthesia Educational Programs (COA) effective May 2023.
As president, Dr. O'Donnell will guide the COA accreditation efforts for the 133 Nurse Anesthesia programs in the United States and will also oversee review of new program applications, program size increases, program closures, National Certification Examination performance data and complaints against programs.
"Faculty assuming high-level leadership roles within the profession only serves to enhance the reputation of the School of Nursing and the University of Pittsburgh," said Dr. O'Donnell. "My deep involvement with the COA allows me to have the most cutting-edge information with respect to accreditation and the nurse anesthesia profession in general."
Dr. O'Donnell stated he is committed to the ongoing recognition of the COA by the U.S. Department of Education and the Council for Higher Education Accreditation as president.
"Recently, I joined Dr. Frank Gerbasi (CEO) and Dr. Paul Austin (Vice President) to provide testimony to the National Advisory Council for Accreditation and Integrity (NACIQI) of the USDE," he said. "Additionally, we plan to open the Standards for Accreditation of Nurse Anesthesia Educational Programs for comment in 2024 and will be working with the community of interest to make recommended changes. This process will last for approximately two years."
Dr. O'Donnell is recused from all oversight of the nurse anesthesia program at Pitt Nursing, along with all programs in Pennsylvania. He will serve in the position until May 2024 and can be re-elected for one additional term.
The Council on Accreditation of Nurse Anesthesia Educational Programs is responsible for accrediting nurse anesthesia programs across the United States and Puerto Rico. These programs include those granting post-master's certificates, master's degrees, doctoral degrees and extends to programs that provide distance education options. Starting January 1, 2022, students admitted into accredited entry-level programs are required to complete their studies with doctoral degrees. Additionally, the COA extends its accreditation to postgraduate CRNA fellowships in acute and chronic pain and pediatrics.