The School of Nursing's Nurse Anesthesia graduate program has an outstanding national reputation. Pitt's Nurse Anesthesia Program is one of only a small group of programs that have been ranked in the top 10 of the US News and World Report Nurse Anesthesia program rankings since 1998 -- the first year that such programs were ranked.  Our Nurse Anesthesia programs include entry to practice BSN to DNP and for the practicing nurse anesthetist an MSN to DNP.  Applicants with an MS degree may also apply.  The Nurse Anesthesia Program has fully transitioned to the DNP degree and our first BSN to DNP cohort graduated in December 2019. 
The Pitt BSN to DNP program is 86 credits and is offered on-campus on a full-time basis (9 terms over three years). The MSN to DNP program is 36 credits and is a fully online curriculum.  Personalized advising from nurse anesthesia program faculty promotes successful didactic and clinical outcomes.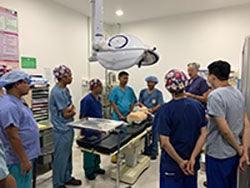 The Pitt Nurse Anesthesia Program is fully accredited by the Council on Accreditation of Nurse Anesthesia Educational Programs (COA) of the American Association of Nurse Anesthetists until 2030. We were reviewed for accreditation in 2020 and received the maximum 10 years. This is our third 10-year accreditation in a row without any citations.  We are very proud of this accomplishment!  All graduates of the BSN to DNP program are eligible to take the National Certification Examination administered by the National Board for Certification and Recertification of Nurse Anesthetists (NBCRNA). 
Nurse Anesthesia practice covers the continuum of care from pre-operative assessment to discharge from the recovery unit. Nurse anesthetists interview and assess each patient to formulate and implement an individualized plan of care while collaborating with members of an interprofessional health care team. There are over 25 clinical site affiliations where students can be assigned.  Collectively, students are exposed to more than 300,000 anesthetics per year in an array of environments.  Experiences include Level 1 trauma centers, cardiothoracic, transplants, pediatrics, obstetrics, dental, community, surgery centers, and office-based practices.  Our students are required to administer 800 anesthetics (AANA COA requirement is 600) and average more than 2500 hours in the clinical setting (AANA COA requirement is 2000 hours).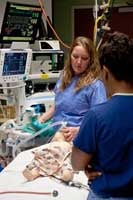 This DNP program prepares students through course work that develops knowledge and skill in anesthesia practice as well as in organizational and leadership skills. The rigorous curriculum features courses addressing the chemistry and physics of anesthesia, advanced pharmacology, advanced physiology and pathophysiology, basic-to-advanced principles of anesthesia care, anesthesia technology, team training, patient safety and the professional role. Our program integrates numerous simulation and workshop opportunities including basic and advanced airway management, regional anesthesia techniques, simulation for pediatrics and obstetrics, and interprofessional team anesthesia crisis management to name a few. 
Courses in this practice-focused doctoral program cover the evidence base for practice, organizational and systems leadership, informatics, patient care technology for the transformation of health care, health care policy and finance, clinical error prevention, population health and interprofessional collaboration for improving patient and population health outcomes.  Each student completes a scholarly project with methods including quality improvement, retrospective chart review, policy or program evaluation.
First time board success is very important to the graduate and a priority of our program.  We engage in personalized advising, emphasize development of individual study plans and require DNP scholarly projects to be completed no later than the eighth term.  Additionally, the Program has established a target score for the Self-Evaluation Examination (SEE), offers a board review course, administers an anesthesia-specific comprehensive exam, and allocates time off for study during the final (ninth) term.
Graduates have the opportunity to practice in traditional hospital operating room suites; ambulatory surgical centers; in the offices of dentists, podiatrists and pain management specialists; or in a wide variety of settings including the U.S. military and the Public Health Services. The Bureau of Labor Statistics  (2018) indicates a 17% growth rate of CRNA graduates is needed from 2018-2028 to meet demand.  Further, the average CRNA age is 52 according to the National Council of State Boards of Nursing (NCSBN) Environmental Scan (2019) and according to the American Association of Nurse Anesthetists (AANA) Annual Membership Survey (2019), 20% of the current CRNA workforce plans to retire by 2025.  This represents ~ 8000 CRNAs who will be leaving the field in the next 5 years and does not take into account the expected expansion of surgical and sedation services or the expansion of CRNA scope of practice that has occurred during the current pandemic.
To all Nurse Anesthesia student applicants.The Council on Accreditation of Nurse Anesthesia Educational programs requires that we inform all applicants and current students that as of January 1, 2022, all students matriculating into an accredited program must be enrolled in doctoral study.