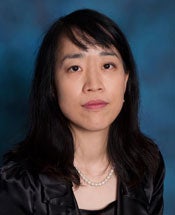 Position: Assistant professor, Department of Health and Community Systems, and coordinator, psychiatric mental health nurse practitioner program
Back Story: Lee earned her BSN and MS in psychiatric nursing at Hanyang University in Seoul, South Korea. She received her PhD in psychiatric nursing from the University of Washington.
Class Act: The University of Pittsburgh School of Nursing stands out in the way it prepares psychiatric nursing students to identify medical conditions that may masquerade as a psychiatric condition, Lee believes. "Before we think about a diagnosis, we have to think first if there's a medical condition there," she says. "There are conditions that may actually mimic psychiatric symptoms." Colleagues from other programs often comment, Lee says, on how good the students in her program are at using the evidence.
Of Note: In 2012, Lee was a Robert Wood Johnson Foundation Nurse Faculty scholar semifinalist.
First published in Pitt Nurse magazine, Fall 2014