Margo Brooks Carthon, MSN '98, PhD, APRN, FAAN
Assistant Professor
University of Pennsylvania School of Nursing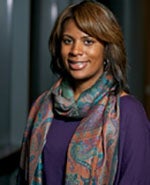 Brooks Carthon is an associate professor at the University of Pennsylvania School of Nursing. She received her BSN from the North Carolina Agricultural & Technical State University, MSN in Adult Health and Psychiatric Mental Health Nursing from the University of Pittsburgh, and her PhD from the University of Pennsylvania. 
A vision of equitable health care guides Carthon's program of research, which focuses on identifying ways that nursing care delivery can be tailored to improve health outcomes for marginalized individuals. Her research has received generous support from the Robert Wood Johnson Foundation, National Institute on Minority Health and Health Disparities, and the Agency for Healthcare Research and Quality. Results of Carthon's work have been widely cited in peer-reviewed journals including BMJ Quality and Safety and the Journal of the American Geriatrics Society.  
Dr. Brooks Carthon has been the recipient of numerous research and mentoring awards. She successfully led an interdisciplinary team of clinicians, researchers, and allied health professionals in the development of THRIVE@HOME, a set of solutions and technologies to support socially vulnerable individuals and clinicians working to achieve better health outcomes after a hospitalization. She is a senior fellow of the Leonard Davis Institute of Health Economics, an Advisory Board Member of Trinity Mercy Life PACE of West Philadelphia, a Robert Wood Johnson Nurse Faculty Scholar, and a fellow of the American Academy of Nursing.