Tamra Minnier, BSN'84, MSN'85, FACHE
Chief Quality Officer
UPMC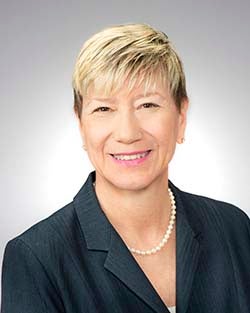 Tamra (Tami) Minnier is the chief quality officer for UPMC, a $20 billion-dollar integrated health care delivery and financing system in Pittsburgh, Pennsylvania. Minnier oversees the Wolff Center, which drives quality and safety across the UPMC enterprise. She is also the executive director for the Beckwith Institute, a $16 million-dollar foundation supporting innovation in care delivery.
In her role as the chief quality officer, Minnier coordinates activities of 40 hospitals, more than 4,000 physicians, nearly 3.5 million health plan enrollees, and various international clinical sites in Italy and Ireland. She has held various hospital executive and nursing leadership positions in health care and has overseen the building of several new acute care hospitals. 
Minnier has a passion for clinical care improvement and achieving excellent outcomes.  She has her BSN and MSN from the University of Pittsburgh; she is a fellow in the American College of Healthcare Executives. Minnier has studied the Toyota Production System and Lean Manufacturing. She is a graduate of the Advanced Training Program at Intermountain Health Care and has been on faculty at the Institute for Healthcare Improvement. 
Many of the care delivery programs Minnier has developed have gained national and international recognition for UPMC. She is the Chair of the Board for the Joint Commission International/ Joint Commission Resources. She also serves as a board member of the Patient Safety Movement Foundation, United Way of Western Pennsylvania and Phipps Conservatory. A nationally known speaker, Minnier has been published in the Journal of the American Medical Association, Newsweek, The Journal of Nursing Administration, Modern Health Care, Healthcare Leaders, Reflections by Sigma Theta Tau, and many other journals. She has been noted by Becker's as one of the 50 top experts leading the field of patient safety and one of the top 130 women health system leaders to know.