Learn more about Pittsburgh
We would love to welcome you to this metropolitan area with small-city charm! 
Pittsburgh has received national and international accolades for the quality of life, amenities, livability over the last several years.  Here's just a sampling:
Information about Pitt, Pittsburgh, and Resources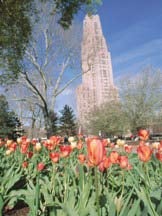 You can learn more about the University and the many resources for faculty at this Web site.
Here is a site dedicated to policies and guidelines for faculty.
Relocating to Pittsburgh
Did you know that Pitt has teamed up with Howard Hanna in order to provide faculty and staff with discounts on buying a new home? The Hanna Gold Advantage Program is a unique package of discounts available to all University of Pittsburgh faculty, staff, and students, including estate commissions and relocation assistance. You must register in advance with Howard Hanna Relocation and Business Development to take advantage of these exclusive benefits. Registration is free. You may register by telephone (412-967-9000, ext. 307) or online.
Pittsburgh has very distinctive neighborhoods ranging from traditional ethnic enclaves to trendy hipster hangouts. Explore the 50+ fun places to live within the city limits or or explore more about Allegheny County.
Pitt offers an extensive description of residential areas in Pittsburgh, which focuses on the livability of each neighborhood.
Some commercial Web sites to help in your home search:
Dual-Career Resources
Helping dual-career couples is a central part of the Higher Education Recruitment Consortium's mission. HERC's member institutions know that dual-career concerns influence candidates' decisions when searching for and considering a job. The decision to accept a job frequently becomes contingent upon an offer of job search assistance and opportunities for your accompanying partner. HERC offers dual-career jobseekers:
Access to the most comprehensive list jobs at institutions within a commutable distance.
State-of-the-art dual-career search technology.
A comprehensive list of articles, research, and links to campuses that have dual-career programs and policies.
Dual-career search technology that enables you to search for jobs that meet both you and your partner's job search criteria.
A library of articles, research, and studies on the dual-career topic.
Links to institutions that have dual-career programs and policies.
Jobseeker webinars on dual-career subjects
Living Here in Pittsburgh
World class child care
The University Child Development Center enrolls children of staff, faculty and students. It utilizes a child-centered, extended family approach to support the developmental needs of all children. Learn more here. There is also the Falk Laboratory School for K-8 students.