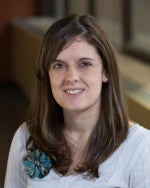 School of Nursing
336 Victoria Building
3500 Victoria Street
Pittsburgh, PA 15261
412-624-4722
F: 412-383-7227
mdh71@pitt.edu
Profile
Melissa Harlan received her Bachelor of Science in Nursing from West Virginia University in 2008 and began her career as a trauma-surgical nurse at Allegheny General Hospital, a level I trauma center, in the Spring of 2009. While there she served as charge nurse and preceptor to undergraduate nursing students and graduate nurses. In 2014 she completed her Master of Science in Nursing as a Clinical Nurse Specialist from the University of Pittsburgh and shortly after assumed the position of community health nurse educator for an international organization in Santa Cruz, Bolivia. While there, she spent 6 months educating staff at a children's home and private school on health promotion and disease prevention practices. Upon her return to the United States, in the fall of 2015, she joined the faculty of the University of Pittsburgh School of Nursing. 
Clinical Emphasis
CV

Harlan Melissa Resume 2016.pdf
Teaching
Since Ms. Harlan assumed her current position, she has instructed clinical for both traditional and accelerated students at the sophomore through senior level.  She also assisted a doctoral student to educate nursing staff at UPMC Presbyterian on ways to reduce contamination of blood cultures. 
Service
When not instructing students Ms. Harlan is passionate about engaging in efforts to prevent human trafficking. She is currently assisting the organization Remember Nhu to develop a series of health care education videos that will be used to help staff provide appropriate care for children who are at risk for being trafficked.