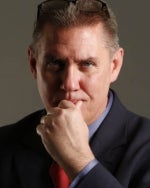 School of Nursing
360A Victoria Building
3500 Victoria Street
Pittsburgh, PA 15261
412-624-4860
F: 412-383-7227
jod01@pitt.edu
Profile
I received my Doctorate of Public Health degree (Epidemiology) in 2009 with my dissertation work focusing on injury prevention through use of simulation methodology. My dissertation, titled "Development of an Optimal Patient Transfer Task Set and Simulation-Based Intervention to Reduce Musculoskeletal Injury in Healthcare Workers" (University of Pittsburgh IRB# 0511041), was funded by Department of Defense (Award # DAMD 17-03-2-0017, $471,000.00) and was honored with the Best Dissertation of the Year in the Department of Epidemiology Award, 2009-2010.
I remain involved in research and serve as Associate Director of the Winter Institute for Simulation Education and Research and Co-Director of the Research Committee. I remain actively involved in the human simulation and patient safety movements. My areas of scholarly and research interests include use of structured and supported debriefing methods in simulation, hierarchical task analysis methods in simulation, procedural simulation, team training, mastery learning impact on skill attainment, interprofessional simulation, technology applications in simulation education and assessment.
Clinical Emphasis
I have practiced in a variety of setting since 1991 including the military, locum tenems, UPMC Presbyterian-Montefiore Hospital, and Magee Women's Hospital of UPMC.
Teaching
I lecture extensively in the Nurse Anesthesia Program at the University of Pittsburgh and teach on the BSN, MSN, DNP, and PhD levels. I speak regionally, nationally, and internationally on simulation methodology, mastery learning, and technology in education and am co-author of the iSIM (improving simulation instructional methods) course which is offered around the world. I have received a variety of teaching awards and honors including the 2012 Chancellors Distinguished Teaching Award.
Service
A retired United States Army Nurse Corps Officer, I volunteer with a variety of local and national professional organizations, including WISER's board of directors; the Anesthesia Patient Safety Foundation's (APSF) board of directors, where I am one of only two CRNA's; the APSF Editorial Board; and the Council on Accreditation of Nurse Anesthesia Educational Programs. I also have served as a volunteer for the Health Volunteers Overseas program and have taught at the University of Belize.