At the School of Nursing, we feel that our success is a direct reflection of the achievements of our graduates, whether they advance the nursing profession in the hospital, laboratory, classroom, or government office.  
To acknowledge the accomplishments of our graduates, as well as their contributions to the nursing profession and the success of the School of Nursing, we offer annual alumni awards. We want to call attention to these role-model worthy nurses and nurse educators!
Meet our 2016 Alumni Award Honorees:
2016 Distinguished Alumni
Deborah Trautman, PhD, MSN '87, RN, FAAN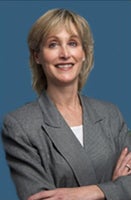 Deborah Trautman, PhD, RN, FAAN, is President and Chief Executive Officer of the American Association of Colleges of Nursing (AACN).  As the national voice for baccalaureate and graduate nursing education, AACN serves the public interest by setting standards, providing resources, and developing the leadership capacity of member schools to advance nursing education, research, and practice. 
Dr. Trautman assumed the position of AACN President and CEO in July 2014.  Prior to AACN, Dr. Trautman served as the Executive Director of the Center for Health Policy and Healthcare Transformation at Johns Hopkins Hospital.  She served in other leadership positions at the Johns Hopkins Medical Institutions, and UPMC.
Dr. Trautman has authored publications on health policy, nursing education, Ebola, intimate partner violence, pain management, clinical competency, change management, cardiopulmonary bypass, and consolidating emergency services. 
Dr. Trautman is a member of several professional societies and serves on a number of high profile boards and advisory groups, including the Department of Veterans Affairs' Special Medical Advisory Group, which advises the Secretary of Veterans Affairs on matters related to healthcare delivery, research, education, and related areas.  The Robert Wood Johnson Foundation named her program director of the New Careers in Nursing project, and her colleagues with the Interprofessional Education Collaborative elected her to serve as the group's Treasurer/Secretary.  She also serves on the National Academies of Science, Global Forum, Envisioning the Future of Health Professional Education.
Dr. Trautman is a 2007/2008 Robert Wood Johnson Health Policy Fellow who worked for the Honorable Nancy Pelosi, then Speaker of the U.S. House of Representatives.   In 2015, she was inducted as a fellow into the American Academy of Nursing. 
2016 Outstanding Young Alumni
Natalie Mathias, BSN '14, RN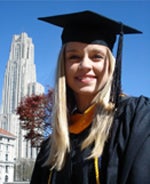 Natalie Mathias is a Registered Nurse at John T. Mather Memorial Hospital in Port Jefferson, New York. She works in the Medical/Surgical Oncology Department, where she spends her time managing medical-surgical patients who are battling cancer and cares for individuals receiving chemotherapy treatments.
Not only is Natalie honing her nursing skills, but she also serves on several hospital committees, including the Nursing Quality Council and the Nurse Executive Committee. As a member of these committees, she works to improve patient care through the promotion of evidence-based practice and research utilization while evaluating hospital standards and policies.
She participated in the Frontline Leadership Program. This year long initiative provided her with leadership experience and the opportunity to develop, implement and evaluate an endeavor to improve the timeliness of morning medication administration.
Natalie is a three-time recipient of the John T. Mather Memorial Hospital patient-nominated Clinical Excellence Award. She also received the peer-nominated Clinical Nurse of the Year award and is sharing her expertise while serving as a preceptor for nursing students.
As an undergraduate student at the University of Pittsburgh School of Nursing, she volunteered at the North Way Christian Community providing care for children during church services and was a Patient Care Technician at UPMC Montefiore.  She graduated from the School of Nursing summa cum laude and maintained Dean's List recognition every semester.
2016 Honorary Alumni
Loren H. Roth,  MD, MPH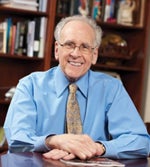 Loren H. Roth, MD, MPH, is the Associate Sr. Vice Chancellor for Clinical Policy & Planning, Health Sciences, University of Pittsburgh; Distinguished Service Professor of Psychiatry, University of Pittsburgh; Senior Advisor, Quality, UPMC Health Plan; and Professor of Health Policy and Management, University of Pittsburgh Graduate School of Public Health.
A graduate of the Harvard Medical School, the Harvard School of Public Health, the Yale and Massachusetts General Hospital's Psychiatric Residency Programs, Dr. Roth has conducted research and writing in law and psychiatry over his career, related to informed consent, patient violence, competency assessment, confidentiality, and ethics in research.  He is a past winner of the American Psychiatric Association's prestigious Isaac Ray Award, given for outstanding lifetime career contributions to law and psychiatry.
In 1988 and 1989, Dr. Roth was the Psychiatric Team Leader of a unique U.S. State Department/APA/NIMH delegation of 26 psychiatrists, lawyers, and human rights experts that assessed recent changes in Soviet psychiatry and the status of political prisoners, dissidents, within otherwise closed Soviet mental hospitals.  His efforts to improve human rights and eliminate the psychiatric abuse of patients in the former USSR have been widely acknowledged.
Dr. Roth is the former Sr. VP, Quality Care and Chief Medical Officer of UPMC.  In this role, Dr. Roth directed quality improvement across the health care system, provided overall supervision for residency training and worked with University faculty and administrators, community hospitals/physicians and insurers to link the Academic Medical Center with the Southwestern PA health care community. 
In his current role as Associate Senior Vice Chancellor, Clinical Policy and Planning, Health Sciences, Dr. Roth works with the Deans of the Health Sciences Schools to prepare future graduates for a health care environment stressing innovation, accountability, interdisciplinary communication and teamwork, quality, safety, and a lifetime learning process to ensure patients' best interest.