The Pitt Nursing curriculum is known to be demanding, which it has to be for students in the health care arena. Students who are looking to be even further challenged should consider enrolling in the School's Nursing Scholars Program.
One of the prime features of the Nursing Scholars Program is that students will participate in faculty-supervised research. The parameters of the research project are tailored to the student and their interests. The research may result in publications and/or conference presentations. Previously, scholars' research projects have explored topics in genomics, oncology, community health, and technology.
Students in the Nursing Scholars Program are assigned both a program advisor and a faculty mentor, to ensure successful completion of the program and the associated research endeavors. Many of these mentors and advisors are on the graduate faculty at the School of Nursing.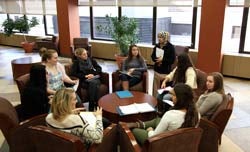 Nursing Scholars benefit from specially-designed seminars and activities, which broaden their understanding of classroom materials. They are also encouraged to take University Honors Courses, which present students with an in-depth treatment of the topic. The Nursing Scholars Program will engage students, impress future employers, and prepare students for the rigors of graduate study.
To be admitted to the Nursing Scholars Program, you must have earned a cumulative 3. 5 during high school or any previous collegiate course work. Contact the Associate Dean for Undergraduate Education at snc42@pitt.edu or 412-624-5731.