School of Nursing to kick-off Pitt's Year of the Humanities

Pitt Nursing is pleased to invite you to an event introducing the University's Year of the Humanities. A range of campus-wide events and programs will spotlight the importance of the humanities across a spectrum of academic disciplines, including the social sciences, natural sciences, engineering, medicine, and others. As part of this programming, the School of Nursing is hosting the launch of a book about the realities of nursing by Theresa Brown, RN. A 2007 alumna of Pitt Nursing's Accelerated 2nd Degree BSN, Brown is perhaps best known for her work as an Op-Ed columnist for The New York Times. 
In The Shift, coming out on September 22, Brown lets readers experience the dynamics of one day on a busy oncology ward. She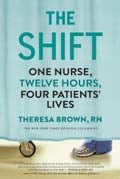 chronicles 12 hours and introduces us to four very different patients, thereby revealing the skills, sensitivity, and humor that enable a nurse to be a patient's "most ardent advocate in a medical system marked by heartbreaking dysfunction as well as miraculous successes."
Maureen Shawn Kennedy, editor-in-chief of the American Journal of Nursing, advocates that The Shift become required reading for health care professionals ranging from hospital administrators to medical students because it will help them to better appreciate "all that goes into good nursing and give them another reason to invest in appropriate staffing" as well as to recognize "the intellectual and organizational skills nurses use." 
Join the School of Nursing and the University of Pittsburgh's Year of the Humanities initiative for the launch of The Shift: One Nurse, Twelve Hours, Four Patients' Lives:
Tuesday, September 22, 2015
O'Hara Student Center Ballroom
4:00 p.m. – Author's Presentation
5:00 p.m. – Reception
This event is open to the public, free of charge.
Class of '47 Alumna is Named "Living Legend" by Pittsburgh BNIA

Congratulations to Adena Johnson Davis (BSN '47) who was recently honored by the Pittsburgh chapter of the Black Nurses in Action organization. Adena was presented with the Mary Eliza Mahoney Award, otherwise known as the Living Legend award. She was selected for this award in recognition of her long and pioneering career at Magee Woman's Hospital and the Veterans Administration, as well as her efforts to help the next generation of nurses through her scholarship fund here at the School of Nursing.
Pitt Nursing Announces Recent Faculty Promotions
Please join Dean Jacqueline Dunbar-Jacob and the School of Nursing in congratulating the following faculty members on their academic promotions, which is how the University recognizes the research, teaching, and service accomplishments of faculty. 
Heidi Scharf Donovan, PhD, was promoted to full professor.
Dr. Donovan is renowned for her work on symptom management and the development and testing of theoretically-guided psycho-educational interventions to improve outcomes for patients with cancer and their family caregivers. She teaches graduate courses in the Health & Community Systems area, as well as serving as the Vice Chair for Research for the department. She was also the Director of the Office of Community Partnerships at the school, promoting community engagement on the part of faculty, staff, and students to improve lives within our region.

Jennifer Hagerty Lingler, PhD, was promoted to associate professor.
Dr. Lingler's research focuses on provider-patient communications, health behaviors, and psychosocial and ethical implications of late-life cognitive impairment. She teaches ethics courses at both the graduate and undergraduate levels and is a frequent guest lecturer on ethical issues in dementia care, neurological assessment, and the differential diagnosis of dementia. Dr. Lingler serves as a board member of the PA Chapter of the Alzheimer's Association and is very active with the Gerontological Society of America and the Alzheimer's Disease Centers. 
Michael Neft, DNP, CRNA, was promoted to associate professor.
Dr. Neft is the Vice Chair for Administration for the Department of Nurse Anesthesia. In addition to his teaching for the Nurse Anesthesia program, Dr. Neft has been the President of the Pennsylvania Association of Nurse Anesthetists and currently serves as President of the Eta Chapter of Sigma Theta Tau International and on the Practice Committee of the American Association of Nurse Anesthetists. He also holds a position on the University of Pittsburgh's Faculty Assembly. 
Congratulations to these members of the Pitt Nursing faculty!
Make Plans for Homecoming

Plan to spend some time with your Pitt Nursing friends during Homecoming 2015, slated for October 5-11. We're hosting a Homecoming Reception on Friday, October 9 from 6:30 to 8:30 p.m. in Room 548 of the William Pitt Union. Don't miss this chance to meet the dean, faculty, and current students while enjoying hors d'oeuvres and refreshments. Registration is free and drink tickets will be provided. For more information, please contact Kate Gaunt at kate.gaunt@pitt.edu or 412-647-4220. 
Alumni Round-Up
At the American Association of Nurse Anesthetists Conference in Salt Lake City, Utah, the School hosted it's 6th Annual Reception for alumni attending the event.  It was a wonderful opportunity for alumni to meet with current students, learn updates about the School and celebrate the Anesthesia program's #1 ranking from U.S. News & World Report.