An Historic Event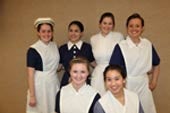 Historic postcards of nursing were the reason for a recent event at the School of Nursing!  On April 14, the school hosted an evening reception and lecture around a special exhibit on "Pictures of Nursing: The Zwerdling Postcard Collection."  The Zwerdling collection at the National Library of Medicine consists of postcards of nurses and the nursing profession, produced between 1893 and 2011. Pitt's Health Sciences Library System brought a travelling exhibit about the collection to campus, and the School of Nursing was pleased to host the opening reception and lecture. Our speaker for the evening was Brigid Lusk, PhD, nurse historian and Director of University of Illinois at Chicago's Midwest Nursing History Research Center. Dr. Lusk explored the history and import of postcard images of nursing, drawing interesting comparisons between the realities of nursing through the ages and the often idealized images of the profession included on such post cards.  Attendees – Pitt Nursing alumni and faculty joined by visitors from the Pittsburgh-hosted ENRS conference – were delighted by the presence of Pitt Nursing students who brought some history to life by modeling historic nurse uniforms in the School's collection!
A NEW Arrival!

The School of Nursing is pleased to announce the arrival of … its new Nurse-Midwife major in the DNP program!  In February 2016, we were awarded pre-accreditation status by the Accreditation Commission for Midwifery Education (ACME) and we're now accepting applications for admission to the Fall 2016 inaugural class of Pitt Nurse-Midwives!
The on-campus, 100-credit major features coursework covering patient care, health care organization management, ethics, and public policy as well as clinical rotations in the region's outstanding hospitals, birthing centers, and obstetrical/gynecological/women's health practices. Full-time and part-time study options are available. Complete details, including admission criteria and the course of study, are available at this Web page. 
World Rankings Tout Pitt Nursing

The School of Nursing has been ranked 12th in the 2016 QS World University Rankings! These rankings highlight the top universities in 42 subject areas based on academic reputation, employer evaluation, and research impact. The listing was prepared by Quacquarelli Symonds and is based on the results of surveys of 75,000+ academics and employers worldwide. Among U.S. schools, Pitt Nursing was ranked 7th! Here is a list of our other rankings.
Catherine Bender Secures NCI Funding
Congratulations to Professor Catherine Bender on securing funding from the National Cancer Institute (part of the NIH) for her project on Influence of Exercise on Neurocognitive Function in Breast Cancer. The project aims to determine if moderate aerobic exercise will improve cognitive function, particularly memory, attention, and executive function related to endocrine therapy in postmenopausal women with breast cancer. The trial seeks to determine if the intervention improves cognitive function compared to usual care during hormonal therapy and to map the direct effects of exercise on neuroimaging metrics of brain health. Another goal of this five-year project will be to assess the impact of exercise on cognitive function in light of symptoms such as fatigue, sleep problems, depression, and anxiety.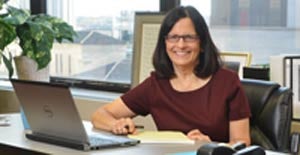 Upcoming CE Offerings on Dementia and Leadership
Pitt Nursing's Continuing Education Department invites you to two exciting sessions in the upcoming months. Mark your calendar for the Interdisciplinary Leadership Forum on October 14, 2016 and the Clinical Updates in Dementia Webinar Series on June 7, 2016. These types of learning opportunities not only provide contact hours, but they actually help you in your daily practice. You can find the most current information on Pitt Nursing's CE offerings here.
Welcome to New Alumni!
On April 20, the Dean hosted a reception for students who will graduate in April 2016.  Students from both undergraduate and graduate programs attended and were welcomed to Pitt Nursing's alumni family by Dean Jacqueline Dunbar-Jacob and other alumni. The evening included a presentation by Kelley Baumgartel (PhD '15), who spoke about finding volunteer opportunities that matched her passions. Kelley, who is now a post-doctoral researcher in the School of Nursing, is a Board Member for the Three Rivers Mothers' Milk Bank and a long-time volunteer with Hello Bully – a local charity which seeks to rehabilitate the reputation of the American Pitt Bull Terrier. Kelley exhorted the soon-to-be-graduates to find ways to give back to their community in addition to their practice. Thanks to Kelley and our warmest best wishes to the graduates of 2016!
Meet Kate Gaunt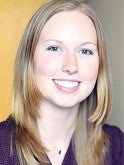 Kate is the Alumni Relations Coordinator for the School of Nursing. You'll see her at all School alumni events, which she develops and organizes!  In fact, she's happy to help graduates plan for their class reunions.  You can reach Kate at kate.gaunt@pitt.edu or 412-647-4220.
Plus, don't forget to keep Kate and the School up-to-date on your latest achievements!  Simply complete this form to let us know if you've changed jobs, have a new e-mail address, or won an award!
Alumni Round-Up
Elizabeth Zapp (BSN '04) received the 2015 Virginia Nurses Foundation's 40 Under 40 award. The Foundation recognizes the top nurses in the field throughout the state annually.  Elizabeth was selected from a record number of nominees as one of Virginia's outstanding young nurse leaders because of her achievements in professional practice, leadership, and positive promotion and advancement of the nursing profession beyond the practice setting. Congratulations to Elizabeth!