There's Something Special Cooking for Alumni Day 2015!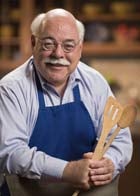 Pitt Nursing has cooked up a little something special for our 2015 Alumni Day Celebration!  We are having Pittsburgh's most famous television chef and host of QED Cooks, Chris Fennimore, give a fun-filled cooking demonstration as part of the festivities. Enjoy the scrumptious fare and celebrate a special recognition of reunion classes with graduation years ending in "0" and "5."
Please note: we are looking for individuals from each reunion year to assist with coordinating your classmates for this special day.  Contact us if you are interested!
So, mark your calendars and make your reservation today for this fun way to spend time with your Pitt Nursing community:
Saturday, May 16, 2015
11 a.m.--2 p.m.
The University Club, 124 University Place, Pittsburgh, PA 15213
Go to events for more information and to make your reservation by May 7, 2015. Hope to see you there and Hail to Pitt!
(Photo: WQED Multimedia)
Congratulations to Nightingale Honoree, Donald Bucher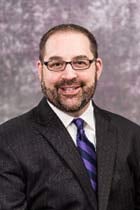 Congratulations to Donald Bucher, MSN '07, for winning the 2014 Nightingale Award in the Advanced Practice RN category. Donald is an acute care nurse practitioner with UPMC Hamot, where he cares for critically ill and injured ICU patients. He also supervises the advanced practice providers in UPMC Hamot's hospitalist, critical care, and palliative care groups. He was a 2013 Cameos of Caring® Advanced Practice Honoree and his colleagues in the ICU have voted him "best teacher" and "best collaborator." Donald received his Nightingale Award at the statewide ceremony in Camp Hill, PA, in the fall of 2014.
Pitt Nursing also congratulates two students selected as Nightingale scholarships winners:  Marsena Ruth Pelton (MSN student) and Theresa A. (Timcheck) Koleck (PhD student).
Nursing Research is in the movies
We all know that nursing science and research impact the lives and quality-of-life of patients, but now a project with its roots at the School of Nursing has made it to the movie screen!  In Disney's "Big Hero 6," an inflatable health care robot helps a band of high-tech young heroes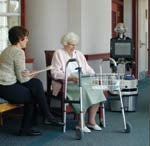 save their hometown from a truly evil super villain.
Baymax, the huggable, super-sized robot, was inspired by a soft robot arm created at Carnegie Mellon University. The CMU team worked in collaboration with Pitt researchers including Pitt Nursing Dean Jacqueline Dunbar-Jacob: this interdisciplinary, multi-institutional research team sought to create ways to use technology to assist the elderly to live more independently. This collaboration led to the Nursebot Project and the founding of the joint Pitt-CMU Quality of Life Technology Center which received significant funding from the National Science Foundation.
And to an Oscar-winning animated film featuring a huggable robot!
Pitt Nursing hosts Black History Month Celebration
The Pitt Nursing community gathered for a special Black History Month event and to hear an engaging presentation on global health and he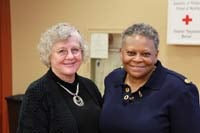 alth care disparities around the corner and around the globe. The keynote speaker, Dr. Margaret Larkins-Pettigrew, shared her first-hand experiences in providing care to women in Swaziland and refugee camps in Ghana. This 1976 graduate of the BSN program also described her efforts to develop and coordinate international educational experiences for post-graduate trainees, medical students, and faculty at Case Western Reserve University and its associated hospitals.
Dr. Larkins-Pettigrew is the Edgar B. Jackson Chair for Clinical Excellence and Diversity as well as Associate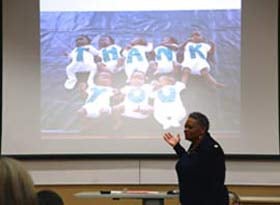 Professor and Head of Global Health Programs in the Department of Obstetrics and Gynecology and Reproductive Biology at Case Western Reserve School of Medicine. The Jackson Chair is one of the first endowed chairs in the nation to promote diversity and inclusion among academic faulty. She maintains both a practice in Cleveland and in South Africa, as well as an adjunct faculty appointment in Pitt's School of Medicine.
Dr. Larkins-Pettigrew discussed her goals to train enough specialty providers in underserved parts of the world to ensure that specialized health care services could be sustainably offered there. She recounted her journey from a medical tourist to becoming a founding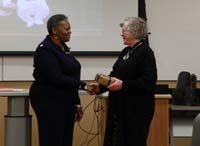 member and Vice-President of Health Education for Project Africa Global/International Programs for Sustainable Solutions. She also founded W.O.N.D.O.O.R. (one door), Women and Newborns, Diversity, Outreach, Opportunity and Research, an innovative program that aims to educate global physicians through local and international health care collaborations.  Grounded in the belief that all women deserve excellent medical care, whether in the U.S. or abroad, this global health program offers OB/GYN residents hands-on training through a comprehensive program that is sustainable and impacts the well-being of women while providing training for young physicians at the same time.
Boost Your Leadership Skills!
The School of Nursing is pleased to present a special Continuing Education program, The Interdisciplinary Leadership Forum, on May 29, 2015. The Forum will feature leaders from medicine, business, public health, nursing, psychology, and education who will explore the correlation between leadership and quality patient care. The goal of this 5-hour CE session is to identify strategies for leaders to improve patient care through discussions of interdisciplinary topics such as  employee engagement, leadership theory and research, and workplace culture. A featured speaker will be James E. Rohr, former CEO and Chairman of the Board of PNC Bank, and the event takes the form of dynamic and thought-provoking conversations (rather than the traditional lecture format).
Friday, May 29, 2015
8:30 am to 2:35 pm
The Boiler Room, Banksville Road, Pittsburgh, PA
$99.00
The Forum is co-sponsored by Western Psychiatric Institute and Clinic's Child and Adolescent Services Leadership Institute. Successful completion of the Forum will result in FIVE continuing nursing education contact hours. The $99 registration fee covers the Forum, lunch, and coffee breaks.
Congratulations to Pitt Nursing Alumna on AACN Appointment
Congratulations to Susan Bakewell-Sachs (BSN '79) on her recent appointment as a Board Member At Large for the American Association of Colleges of Nursing (AACN). Dr. Bakewell-Sachs is the Dean and Vice President for Nursing Affairs at Oregon Health & Science University. Prior to joining OHSU, Dr. Bakewell-Sachs served as nursing faculty at the University of Pennsylvania; program director, professor and Dean at The College of New Jersey (TCNJ) School of Nursing, Health & Exercise Science; and Interim Provost and Vice President of Academic Affairs there. She has held several leadership positions with AACN prior to ascending to the Board.
Faculty Curriculum Work Featured Nationally
Dr. Kathryn Puskar, professor and associate dean for undergraduate education, and Dr. Ann Mitchell, professor, created curriculum standards and guidelines as part of their Substance Use Education for Nurses: SBIRT project. The curricular materials have been vetted by the American Association of Colleges of Nursing and are featured on the AACN's Web site as a BSN Tool Kit for nursing schools. You can view them here and here.
Pitt Nursing Student Featured on Foundation Blog
The Arnold P. Gold Foundation, in conjunction with the American Association of Colleges of Nursing, sponsored inaugural White Coat ceremonies at 100 nursing schools throughout 2014. The Foundation invited one student from each funded school to join a team of student bloggers. The students create a monthly posting in answer to a universal question which might address anything from their humanistic interactions with patients, to their participation in the White Coat Ceremony, or their future plans.  Pitt Nursing is pleased to note that second-year student Michelle DeGerolamo was selected for this honor and has already completed two postings to date.  You can read her blog on the Foundation's Web site.