New Honor for Ann Mitchell

Congratulations to Professor Ann Mitchell on being inducted into the IAAN, the International Academy of Addictions Nursing! This organization fosters excellence in addictions nursing, while recognizing those who have contributed to the field in significant ways. Dr. Mitchell, who is also a Fellow of the American Academy of Nursing, has long had an interest in research on drug use/misuse, particularly the screening/brief intervention/referral to treatment (SBIRT) process and methods. She currently serves as principal investigator for several SBIRT projects funded by the Health Resources and Services Administration (HRSA)
24 Pitt Nurses Shine at Cameos!
It certainly was a shining night for Pitt Nurses at the 17th Annual Cameos of Caring® Gala!  This annual awards event honors nurses in various categories that reflect the breadth of the nursing profession.  For 2015, we're so proud that 24 graduates and students were selected for Cameos of Caring® honors, including faculty member Betty J. Braxter, Pitt's Nurse Educator Awardee. During the gala, we also recognized Lieutenant General Patricia D. Horoho, the U.S. Army Surgeon General and Commander, U.S. Army Medical Command, for her many contributions to military health care. Proceeds from the Gala benefit the Cameos of Caring® Endowed Nursing Scholarship Fund, which has offered more than 250 scholarships to support practicing nurses as they advance their education. Congratulations to the following Pitt Nurses on being chosen for the 2015 Cameos of Caring® Award!
| | |
| --- | --- |
| Denise D. Addis (MSN '94) | Gregory B. Pallus (BS '90), psychology |
| Nancy Ann Birus (BSN '94) | Tammie Payne (BSN '95) |
| Betty J.  Braxter (PhD '03) | Tara Kay Race (MSN '07) |
| Joshua Coblentz (AS '12), nursing | Linda K. Reid-Kelly (BSN '79, MSN '84) |
| Breanne M. Gray (MSN student) | Ryan Richards (BS '10), emergency medicine |
| Patricia L. Harris (MSN '03) | Jessica Nicole Schunk (BSN '07) |
| April M. Hartman (MSN '03) | Peggy Slota (BSN '75, MN '80) |
| Melanie M. Heuston (MSN '04, DNP '10) | Sandra Stanley (BSN '00) |
| Emily E. Hopkins (MSN '03, ADCTM '06, PhD '07) | Elizabeth R. Tedesco (MSN '08) |
| Anne Kisak (BSN '89, MSN '10) | Jeffrey W. Weir (MSN '00) |
| Diane W. Krueger (BSN '81) | Marc A. Wicker (MSN '08) |
| Kim Muoio (BS '94), biology | Susanne R. Wittmann (BSN '85) |
Pitt Nursing Research Showcased at Scholarly Poster Symposium
For the fifth year in a row, the School hosted its Scholarly Poster Symposium, an opportunity for faculty and students to showcase their recent research to colleagues. With more than 35 posters in the event, the community explored such diverse topics as smartphone use to monitor adherence, medication administration errors by caregivers, cognitive therapy delivered via technology tools, and behavioral health screening for veterans and families. Join the School in congratulating PhD student Mohammad Alrawashdeh and senior Jessica Choi for receiving the certificates of distinction in the student category. Mohammad's poster examined "Pattern and Predictors of Sleep Quality within the First Year after Lung Transplantation" while Jessica's covered "Examining Family Planning Behavior in Adolescent Females with Type 2 Diabetes: Importance of Starting at Puberty."
Start the New Year Off Right…with More Knowledge!
Pitt Nursing's CE program offers you the chance to learn something today that you can put into practice tomorrow!  We host a monthly Pharmacology and Clinical Practice Update Series that looks at current research in pharmacology as well as the corresponding clinical practice implications. In Spring 2016, this series will cover Attention Deficit Hyperactivity Disorder (ADHD) in Children and Urinary Tract Infections, as well as other topics critical to your daily practice. Learn more at this Web site. 
Donors & Scholarship Recipients Meet at Annual Luncheon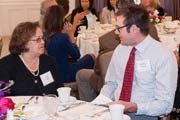 Each year, the School of Nursing hosts a luncheon for some very special folks – the people who donate to our scholarship funds and those fortunate students who benefit from their generosity. For the 2015-16 year, 130 graduate and undergraduate students received support from one of the School's 64 scholarship and research funds! Such support is essential for students and the school: it permits students to devote themselves to their studies without financial pressures and it enables the school to attract outstanding students.
At the luncheon, Assistant Dean Julius Kitutu announced that the school had two new funds, the Bruno &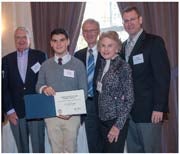 Georgianna Feo Nursing Scholarship Award and the Shirley Boatman Jennewine Scholarship Fund. The Feo fund was created by John T. Tighe III (Pharm '78) and Mary Grace Tighe (BSN '77). The fund is named in honor of Mary Grace Tighe's aunt and uncle, Bruno & Georgianna Feo. The Jennewine Scholarship Fund was created by Richard Jennewine in memory of his wife Shirley (BSN '66), who attributed her ability to attend the school to the financial support she received through scholarships.
The School of Nursing thanks all of the donors to the various scholarship funds. If you would like to help the School to prepare future nursing
leaders and have a tremendous impact on the lives of our students, please consider making a gift to one of our scholarship funds. To do so, contact Michael LaFrankie, Senior Executive Director of Health Sciences Development & Alumni Relations, at 412-647-9071 or lmichael@pmhsf.org. 
Pitt Nursing Celebrates with LTG Patricia Horoho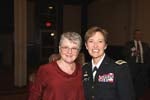 On November 5, the School was proud to host a reception for one of its most distinguished alumni, Patricia D. Horoho (MSN '92), upon the occasion of her retirement from active military service. Most recently, Horoho held the position of the 43rd Army Surgeon General and the Commander of the U.S. Army Medical Command. She served at every level of leadership in Army Medicine to include positions as Deputy Surgeon General; Chief of the U.S. Army Nurse Corps; Commander, Western Regional Medical Command; Commander, Madigan Army Medical Center; Commander, Walter
Reed Health Care System; and Special Assistant to the Commander, International Security Assistance Force Joint Command, Afghanistan. She has been a trailblazer and innovator throughout her 30+ career and her military awards and citations include the Superior Unit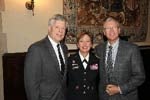 Citation, Distinguished Service Medal, Legion of Merit, Bronze Star Medal, and France's National Order of Legion of Honor, Chevalier (Knight) Award. Please join the School in congratulating LTG Horoho for all of her accomplishments and for being such an outstanding representative of Pitt Nursing!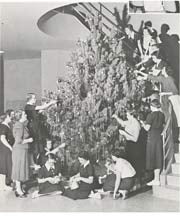 And, it's that time of year!
Have a safe and happy holiday season!