Accolades for Pitt Nursing Faculty, Alums
We know that our faculty are amazing scholars and teachers, but it is great to have their accomplishments recognized on the national and regional stages!  Our congratulations to:
| | |
| --- | --- |
|   | Lora Burke, PhD '97, faculty, for being honored with the 2015 Nightingale Award for Nursing Research |
| | Patricia V. Burkhart, PhD, (BSN '72, PhD, '96), for being inducted as a 2015 Fellow in the American Academy of Nursing |
| | Eileen Chasens, PhD, faculty, for being inducted as a 2015 Fellow in the American Academy of Nursing  |
| | JiYeon Choi, PhD, for being the recipient of the Assembly on Nursing's Early Career Achievement Award at the American Thoracic Society International Conference |
| | Catherine Grant, DNP, faculty, for being a finalist for the 2015 Nightingale Award in the Advanced Practice RN category |
| | Kathy Magdic, DNP, (MSN '92 & '95, DNP '10), faculty, for being honored with the 2015 Nightingale Award for Nursing Education- Academia |
|   | Pamela Power, DNP, (DNP '15), for being chosen as a finalist for the 2015 Nightingale Award in the Nursing Administration – Leader/Manager category |
| | Deborah Elaine Trautman, PhD, (MSN '87), for being inducted as a 2015 Fellow in the American Academy of Nursing |
| | Susan Wesmiller, PhD, (BSN '77, MSN '83, PhD '10), faculty, for being a finalist for the 2015 Nightingale Award for Nursing Education-Academia |
LTG Patricia D. Horoho Presented Keynote at Veterans' Conference
Pitt Nursing alumna Lieutenant General Patricia D. Horoho (MSN '92), Surgeon General of the Army and Commander, U.S. Army Medical Command, gave the opening keynote address at the School's conference on The Veteran's Journey to Achieving Wellness: Successful Reintegration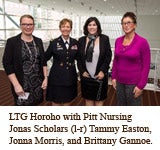 into Civilian Life. The conference featured more than 20 presenters discussing the challenges facing veterans and their families upon returning to civilian life. It was organized by the School of Nursing's Continuing Education Department and three doctoral students who are recipients of scholarships from the JONAS Center for Nursing and Veterans Healthcare: Tammy Eaton, MSN, FNP-BC; Brittany Gannoe, BSN; and Jonna Morris, BSN. The students created  the conference program as part of their work as Jonas Scholars.
LTG Horoho's speech was entitled "Odyssey: A Soldier's Road Home." In it, she noted how the military was changing its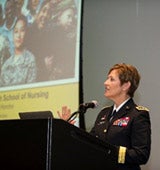 attitude towards health care for its people, with the focus shifting from urgent care to health readiness. The system is now placing more emphasis on improving health, in both the short and long-term. She explained that the military strategically needs to make sure that currently-serving personnel are fit and able to serve, and that young people will be capable of serving in the future. She called upon the health care professionals in the audience to broaden their perceptions and views of veterans, recognizing that today's veterans are different from those of other wars and conflicts. She exhorted attendees to push the limits of health care to help; for example, professionals should learn how to leverage disruptive technology to help veterans and to extend the capabilities of medicine. LTG Horoho also noted that we should "Never forget that every veteran has a story…and that people in the medical field should learn that story" to make sure that they are treating the patient as a person, not just a condition or disease. She ended her presentation by encouraging everyone to work to make sure each service person can live well. 
The School of Nursing thanks LTG Horoho for participating in this ground-breaking conference!
Charron-Prochownik Secures R01 Funding from NINR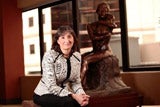 Congratulations to faculty member Denise Charron-Prochownik for successfully pursuing R01 funding from the National Institute of Nursing Research. Dr. Charron-Prochownik was awarded $3,182,365 for her project on "Supporting American Indian and Alaska Native Mothers and Daughters in Reducing Gestational Diabetes Risk." The five-year grant will permit her to extend her much-lauded preconception (PC) counseling intervention (the READY-Girls program) to American Indian/Alaska Native adolescent females at risk for gestational diabetes mellitus (GDM). The project aims to enhance healthy lifestyle behaviors and family planning vigilance prior to a first pregnancy. The READY-Girls program has been adopted by the America Diabetes Association as the model PC program for teens with diabetes. 
Conley Recognized as Distinguished Alumni by Pitt's Graduate School of Public Health

Congratulations to faculty member Yvette Conley (MS '93 and PhD '99) for being honored as a Distinguished Alumni by the University of Pittsburgh Graduate School of Public Health. She was presented with that school's Distinguished Alumni Award for Teaching and Dissemination in recognition of her leadership in incorporating genomics into the education of nurses across all levels of education at Pitt and nationally. Dr. Conley became the first geneticist in the country to hold a primary appointment within a nursing school when she joined the Pitt Nursing faculty. She is an active faculty member with the National Institute of Nursing Research Summer Genetics Institute and is a Robert Wood Johnson Foundation Nurse Faculty Scholar National Mentor.
2015 White Coat Ceremony Hosted by School
At the beginning of the term, the School hosted its second annual White Coat Ceremony to welcome sophomore and 2nd Degree Accelerated BSN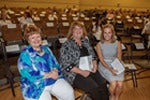 students to the clinical phase of their education. The white coat is a symbol of the trust that society places in these student nurses, an emblem of their developing nursing expertise, and a sign of the critical relationship between them and their patients. 

Families looked on as students received their white coats for use in clinical situations as well as a commemorative pin. Students also recited the White Coat Ceremony oath, committing to providing humanistic, patient-centered care as both current students and future nurses. 
The School was pleased to have Cathy Frasca (BSNED '60) as the keynote speaker for the event. Ms. Frasca discussed

remembering her own clinical experiences, the many roles and attributes of registered nurses, and the types of patient care settings students could work in upon graduation. Remarks were also offered by Salina Smialek, a senior in the BSN program. She told them of her nervousness at embarking upon clinicals, but gave sage advice on how to excel by asking questions and

seeking help from experienced clinicians and preceptors.
Congratulations to those students who participated in the Pitt Nursing White Coat Ceremony and best wishes for an amazing year of learning!
Burke Authors AHA Scientific Statement
Faculty member Lora Burke, PhD, is the lead author for a scientific statement, published in the American Heart Association's journal, Circulation.

This statement examined the state-of-the-literature about the effectiveness of mobile health technologies (mHealth) for managing weight, increasing activity, quitting smoking, and controlling high blood pressure, high cholesterol and diabetes. Unfortunately, there is not an abundance of such research and the statement calls upon researchers to produce the needed evidence on the effectiveness of new technologies, which are currently used by one in five US adults. According to this work, the efficacy of mHealth tools in managing weight led to greater success in the short term, but there is a lack of published data on success beyond 12 months.  You can read the statement on the AHA's Web site. 
Our 2015 Homecoming Celebration
It is one of the most exciting times to be on the Pitt campus – during the university's annual Homecoming celebrations!  This year, the School hosted a reception at the William Pitt Union and alumni from all seven decades of classes joined in the festivities. There were representatives from many different types of nursing and health care settings: academia, hospitals, nursing homes, public health agencies, medical corporations, and chapters of national charitable organizations. Here are a few photos of the 2015 alumni celebrants!
Thanks to those who attended and Hail to Pitt!
Pitt Nursing Presents 2015 Alumni Awards
The School presents its Alumni Awards to recognize and honor the achievements of those Pitt Nursing graduates and friends who have had a great impact on the profession. We're very proud to announce the 2015 recipients of the School's Alumni Awards:
The Distinguished Alumni Award

Cathy Frasca, BSNEd '60, FACHCA
The founder and former executive director of the South Hills Health System Home Health Agency in Western Pennsylvania, Cathy Frasca is known for being a visionary and a passionate advocate for both the profession and patients. As the leader of the largest multi-hospital based home health agency of its kind in the world, she was an advocate on the national health care policy making scene: she testified about expanding Medicare/Medicaid reimbursement for home health services before the Senate Special Committee on Aging
The Outstanding Young Alumni Award

Anthony Chao, MSN '15, BSN '12
Anthony Chao earned his first undergraduate degree at Carnegie Mellon University, and his BSN and MSN at the University of Pittsburgh. He is currently pursuing his DNP at Pitt. In addition to working as a Nurse Anesthetist, Chao is also an accomplished entrepreneur. He cofounded a software company which helps health care and other licensed professionals manage their credentials, licenses, certifications, clearances, and continuing education units.  For that software, he has won multiple regional and national business competitions, including the 2013 Pitt Innovator Award.
Honorary Alumni
Holly Lorenz, MSN, RN
Holly Lorenz is the Chief Nurse Executive of UPMC and Chief Nursing Officer and Vice President of Patient Care Services at UPMC Presbyterian with responsibility for establishing and leading the strategic vision for nearly 14,000 nurses.  Lorenz has oversight for nursing practice in more than 20 academic, community, specialty, and international hospitals as well as the 400 outpatient sites, rehabilitation, retirement, and long-term care facilities.

Sandra Rader, DNP, NEA-BC
Sandra Rader is the Chief Nursing Officer and Vice President of Operations and Patient Care Services at UPMC Shadyside. In this capacity, she is responsible for the clinical operations of a 520-bed licensed tertiary care facility.
Further information about each of these amazing nurses can be found on our Alumni Awards Web page. 
The School celebrated with the 2015 Alumni Award honorees at the Scholarship and Awards Luncheon on October 5th, where donors to the School's scholarship funds and current student beneficiaries were also recognized!
Dean Dunbar-Jacob Presents NINR Director's Lecture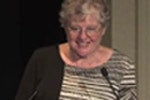 Dean Jacqueline Dunbar-Jacob was chosen to present as part of the 2015 NINR Director's Lecture Series, which brings the nation's top nurse scientists to the NIH to share their work and interests with a transdisciplinary audience. Dean Dunbar-Jacob discussed "Scientific Pursuit of Effective Medication Adherence," an overview of her research on adherence in those with chronic disease with particular attention to measurement and predictive factors. The lecture, recorded on September 22, is available for public viewing on this YouTube page. 
Be a Part of Our Team!
We have several faculty/staff positions open at this time. At the School of Nursing, you'll find a collegial and intellectual environment in which to work. Plus, you'll be helping to educate future generations of nurse leaders and educators!
Student Advisor: requires a BSN degree and 2-3 years of nursing experience. 
Part-time Med/Surg Faculty: non-tenure stream, clinical teaching position. 
Please visit our Open Faculty Positions page for more opportunities.