Pitt Nursing Alums Participate in Pinning 2016!
The School of Nursing was glad to welcome two alumni to the stage for our 2016 Graduation and Pinning Ceremony, held in April at the Monroeville Convention Center.  The keynote address was offered by Patricia Horoho (MSN '92), former U.S. Army Surgeon General and Commander, U.S. Army Medical Command. Horoho explored the roles of trust and leadership in the future careers of nurses and nurse educators. She posited that to be effective, nurses need to establish and demonstrate trust with the clinical team, with patients and their families, and with themselves. In addition, the graduates will need to demonstrate leadership traits to make a difference in the clinical, research, and education settings.  
Welcoming graduating students to the family of Pitt Nursing Alumni was Noreen M. Fredrick, a 2013 DNP graduate and the Regional Executive Director of the Community Behavioral Health Network at Western Psychiatric Institute and Clinic. Dr. Fredrick discussed how her career evolved, in large part due to her pursuit of more advanced education. She also talked about how there has been a monumental shift in health care delivery and why nurses can play a critical role in access to quality care. 
The faculty, staff, and students of the School of Nursing extend their thanks to LTG Horoho and Dr. Fredrick for participating in this traditional day of celebration for the newest members of the Pitt Nursing family!
And, here are some other images from the Class of 2016's very special day!
Congratulations to Rose Constantino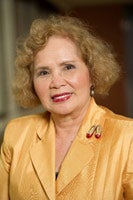 Alumna and faculty member Rose Constantino has been honored with the American Nurses Association's Jessie M. Scott Award. This national award is named after the American nurse who served as Assistant Surgeon General and directed the nursing division of the U.S. Public Health Service, which is now known as the U.S. Department of Health and Human Services. The award recognizes a nurse who has made an outstanding accomplishment in a field of practice, education, or research and demonstrates the interdependence of these elements and their significance for the improvement of nursing and health care. Dr. Constantino (MN '71, PhD '79) who joined the School in 1974, is an associate professor in the Department of Health & Community Systems. She has been elected a Fellow in the American Academy of Nursing and the American College of Forensic Examiners. Congratulations to Dr. Constantino!
Mark Your Calendar for Homecoming!

University of Pittsburgh's Homecoming celebrations will take place October 3-8, 2016
The School of Nursing is hosting an evening Homecoming reception for all alumni on Friday, October 7. Mark your calendars and plan on joining us as part of the University's Homecoming festivities.   Homecoming activities across campus can be found at:  Homecoming 2016
Pitt Nursing DNP Alum Wins Regional Award
The School of Nursing congratulates Cecelia Ratay on being honored with the Shirley Negley-Kobert Award by the Nurse Practitioner Association of Southwestern PA (NPASP). Cecelia, who graduated from Pitt Nursing's Doctor of Nursing Practice program in April 2016, was recognized with the award for her work on "Multidisciplinary Fever Management in Patients with Hemorrhagic and Ischemic Stroke." Cecelia, a Senior Professional Staff Nurse at UPMC Presbyterian, was presented with the Shirley Negley-Kobert Award at the NPASP annual banquet on May 12, 2016.
It's Back….The Official Pitt Script Logo!

On May 18, the University made a big announcement … and social media exploded!  Twitter and Facebook were jazzed when Pitt's athletic director, Scott Barnes, announced that the athletics department would be going back to using the "script logo." Barnes explained "Not only will this move help unify our branding efforts, it also gives us an opportunity to celebrate the amazing history of Pitt Athletics." 
The script logo, commissioned by football coach Johnny Majors in 1973, was phased out in 1996. It made a reappearance in 2014 on Pitt's football helmets; now, it is the primary logo for all of Pitt's athletic programs as the school looks to make its mark in the Atlantic Coast Conference.
Become an Evidence-based Leader!
Join us for the Second Interdisciplinary Leadership Forum, presented by the School's Continuing Education Department, on Friday, October 14th.  This forum addresses "Becoming an Evidence-based Leader," an approach that encourages leaders to make management decisions – choices aimed at providing optimal care and minimizing costs -- through the "conscientious, explicit and judicious use of the best available evidence." This approach is similar to Evidence-based Practice and they should be used in combination to increase front-line effectiveness and efficiency, as well as clinical outcomes.  We're bringing together Evidence-based Management experts, business leaders, and healthcare executives and educators to break down EBM to show you how to use it in your daily work life. Leaders at any level – from the unit to an entire healthcare system – can benefit from this exploration of how to manage people, patients, teams, and resources. This fast-paced learning event goes beyond the lecture format to include panel discussions, small group work, and use of (and reflections on) case studies. You'll come away with a greater understanding of the power of EBM and how to use it, as well as a plan to adopt it in your real-world leadership activities. Go to our Continuing Education Web page for more details and the registration form!
ALUMNI ROUND-UP
Members of the Class of April 1961 had a reunion in Nashville! And, they brought their nursing caps!