Pitt Nursing Alum to Address National Health Care Conference on Returning Veterans' Care
Lieutenant General Patricia Horoho (MSN '92), U.S. Army Surgeon General and MEDCOM Commander, will be a keynote speaker at Pitt Nursing's upcoming conference, The Veteran's Journey to Achieving Wellness: Successful Reintegration into Civilian Life. This national conference will explore the difficulties faced by returning veterans – a critical subject as more than 200,000 service members will transition from active duty to civilian communities over the next five years. We'll be looking at the physical,  psychological, and socio-economic challenges faced by returning veterans; health care

disparities female veterans encounter in civilian life; the ongoing health care needs of the military family; and overcoming actual and perceived barriers to health care and social services. Join us in Pittsburgh on September 10 & 11, 2015, for this two-day conference for nurses, physicians, physician assistants, physical therapists, occupational therapists, and social workers. Be a part of this important conversation. 
Dean Dunbar-Jacob Recognized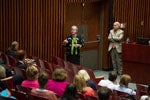 On May 28, Dean Jacqueline Dunbar-Jacob was recognized for her appointment as a Distinguished Service Professor of Nursing at Pitt. This honor recognizes distinctive contributions and outstanding service to the University community in support of its teaching, research, and service missions; performance excellence in the faculty member's department or school; and national stature in his or her discipline or field. Former Chancellor Mark Nordenberg appointed Dr. Dunbar-Jacob in light of her significant body of research on patient adherence, her work as both a member of the faculty and dean of the School of Nursing, as well as service to nursing and other professional organizations. 
On the 28th, Dr. Arthur Levine, Senior Vice Chancellor for the Health Sciences, bestowed the Distinguished Service Professor medal upon Dean Dunbar-Jacob at a ceremony in Pitt's Scaife Hall. As part of the event, Dean Dunbar-Jacob presented the Provost's Inaugural Lecture on "The Academization of Nursing." Congratulations to Dean Dunbar-Jacob!
It's Almost Tee Time

On Monday, July 13, join the School of Nursing for the Nancy Glunt Hoffman Memorial Golf Outing. Enjoy a challenging day of play on the winding Shannopin Country Club course to support a great cause, the work of the Nancy Glunt Hoffman Endowed Chair in Oncology Nursing. 
You can register as a foursome, an individual golfer or join us for dinner. Golfers will enjoy 18 holes of golf with a cart, buffet lunch, buffet dinner, silent auction, and contests of skill. Last year's event at Shannopin was great fun and a huge success for the School of Nursing.  Your support will help us to improve cancer care and treatments for patients.  Opportunities for sponsorships are still available…contact Melanie Spain at 412-864-3058 or mcs49@pitt.edu for details. View more event information here.  
Hey! Come Visit Me at the Pittsburgh Zoo!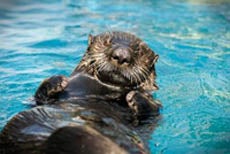 Looks like the water is just fine, doesn't it?  You can visit with this Northern Sea Otter and hundreds of other amazing animals at the Pitt Nursing at the Zoo Day, scheduled for August 1. Alumni and their families are welcome to visit the zoo's signature areas including the tropical forest, where lemurs and the Western Lowland Gorilla live; the African Savanna, where majestic elephants and giraffes reside; or the PPG Aquarium, where you'll be fascinated by the Giant Pacific Octopus, a stingray native to Brazil, and penguins of the King and Macaroni varieties.  And, don't miss this opportunity to view the zoo's newest exhibit, the Islands. Near the Aquarium, The Islands will feature Visayan warty pigs, clouded leopards, Philippine crocodiles, Galapagos tortoises and siamangs, which are small primates from Southeast Asia. Tickets for the day (including admission, lunch, and Pitt Nursing treats) are $22.27 – you can register online here. 
Help Fill In the Blanks!
We're trying to identify everyone featured in the 1983 Ann Lyness mural, a beloved part of Victoria Hall. You can click on the image below to enlarge the mural. 
E-mail us at kmz@pitt.edu, making sure to include the identification number in the circle and your suggestion for the person represented.  Thanks so much for your help!

---
Alumni Round-up
Pitt alumni connect at the 35th Annual NAON Congress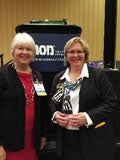 Pam Cupec (BSN '84) and Brigette (Mularkey) Niesen (BSN '81) participated in a panel discussion entitled, "Forging Ahead:  Preparing Today for Nursing Leadership Challenges Tomorrow" at the 35th annual National Association of Orthopaedic Nurses (NAON) in Nashville, TN. Pam works as a Lead Care Manager at UPMC Passavant in Pittsburgh, PA, and was the immediate past president of NAON.  Brigette is a Nurse Manager at the Stamford Hospital, in Connecticut.
Like this? Well, send us your news by completing this form. We may use it in future newsletters!