Join Pitt Nursing for Our Black History Month Event
Since 1926, the U.S. has designated February as an opportunity to recognize the efforts of generations of African Americans to achieve full engagement with American society. Join Pitt Nursing for an opportunity to mark Black History Month with a special lecture event on Tuesday, February 23, 2016. We will meet in Room 123 of Victoria Building to hear Jacqueline Blake, past president of the Pittsburgh Black Nurses in Action group, discuss how the National Black Nurses Association and the local chapter were founded and how they continue to make an impact today. The event will take place at 3:00 pm and a reception will follow Ms. Blake's presentation.  
Campbell and Nilsen Win ONS Foundation Awards

Congratulations to Grace Campbell (assistant professor) and Marci Nilsen (post-doctoral fellow) on receiving Research Career Development Awards from the Oncology Nursing Society Foundation. These awards are intended to support oncology research training and mentorship of recent PhD graduates to best position them for long and productive research careers.
Dr. Campbell, who earned her PhD here at Pitt Nursing in 2013, was awarded the grant for her proposal titled "Quantifying the Functional Impact of Neurotoxic Chemotherapy: Automated Gait Assessment." She plans to use a Microsoft Kinect camera to explore gait and mobility changes during and after neurotoxic chemotherapy. For this work, Dr. Campbell will be mentored by Dr. Marjorie A. Skubic of the University of Missouri Schools of Engineering and Computer Science. 
Dr. Nilsen, a 2013 PhD graduate of Pitt's School of Nursing, will be mentored by Heidi Donovan, professor at Pitt Nursing, and Jonas T. Johnson, the Dr. Eugene N. Myers Professor and Chairman of Pitt's Department of Otolaryngology. Her proposal is titled "Promoting Communication and Symptom Management of Persons with Head and Neck Cancer and Caregivers." The goals of this research program are to identify long-term survivorship needs and design a behavioral intervention to promote communication and symptom management on the part of such cancer patients and their family caregivers. 
Mindfulness CE Activity Returns on April 15
For 2016, did you resolve to better cope with stress?  If so, this Pitt Nursing CE activity will be very helpful!  We're hosting a Retreat to Promote Self-Care for Professional Nurses, a day-long event to help nurses understand the role of mindfulness meditation to enhance the delivery of nursing care. Mindfulness meditation can be an effective tool to increase relaxation, to decrease the physical and psychological symptoms of stress, and to foster an ability to cope effectively with short- and long-term stressors. Facilitated by Dr. Katherine Hammond Holtz, the session will begin at 8:30 a.m. at The Boiler Room in Pittsburgh's West End and participants may earn 6.5 contact hours.  
Heeyoung Lee Honored by Brain and Behavior Research Foundation
Heeyoung Lee, assistant professor in Pitt Nursing's Department of Health & Community Systems, was recently awarded a Young Investigator Grant by the Brain and Behavior Foundation. Each year, the Foundation provides support for promising young scientists conducting neurobiological
research which may contribute to the treatment and prevention of serious brain and behavior disorders. In addition to funding, the young researchers are matched with a scientific mentor from a group of leading researchers across disciplines in brain and behavior research. Dr. Lee's project will explore "Linking Physical Activity, Brain-deprived Neurotropic Factors, and Cognition in People with Schizophrenia." This work will implement a pilot study evaluating the effectiveness of a home-based physical activity program in improving cognitive function in older adults with schizophrenia or schizoaffective disorder. 
Pitt's STTI Group Receives Chapter Award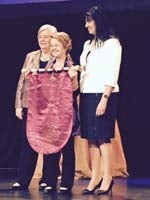 University of Pittsburgh's own Eta Chapter of Sigma Theta Tau International received the prestigious Chapter Key Award at this year's International Biennial Convention.  Delegate Dee Welk, Eta Chapter Governance Board member, accepted the award from STTI President Hester Klopper on behalf of our chapter.
BSN Student Awarded Scholarship by NGNA

The National Gerontological Nursing Association (NGNA) has awarded Salina Smialek, a senior in our BSN program, with the 2015 Mary Opal Wolanin Scholarship for undergraduates. Salina was recognized at the NGNA's annual convention in Indianapolis. The award is given to full-time or part-time nursing students who intend to work with a gerontology population after graduation.  Salina was selected for this scholarship in light of her project (through Pitt Nursing's Undergraduate Research Mentorship Program) examining the relationship between undergraduate nursing students' initial clinical experience and their interest in working with older adults upon graduation. Mentored by Assistant Professor Lorraine Novosel, Salina's work was also recognized with the STTI Eta Chapter Undergraduate Research Grant in 2014 (they are pictured above at the STTI ceremony). Congratulations to Salina!
Virtual Open House to Explore MSN Programs, March 3
Thinking about coming back to the School of Nursing to earn your MSN degree?  Not sure which concentration to pursue?  Then, you should register for our upcoming MSN Virtual Open House on Thursday, March 3, 2016. You'll be able to chat with admission experts and faculty who teach in our CNL, Nursing Informatics, and Neonatal Nurse Practitioner concentrations in the MSN program. From 7:00 pm to 8:00 pm, we'll chat with you (via GoToMeeting) about courses of study, clinical learning opportunities, potential career paths, and the admissions process. This is a great chance to really dig into the details about these MSN programs – register here by March 2, 2016. Once we receive your registration, we'll send you the particulars on how to access the session.
Ready to Go Back Into Practice?

Took a break from nursing?  If you're planning to return to the practice of nursing, enroll in Pitt Nursing's Fast Track Back (FTB) Re-entry into Practice program. FTB will provide an update on current trends in nursing, and a chance to refresh your skills…as well as mastering some new ones!  This is not a reinstatement program, but it's a great way to prepare yourself to re-enter practice with the knowledge and confidence necessary for success! The next session of Fast Track Back begins in April, so review the details and submit your application today. Space is limited.
Alumni Round-Up
A cancer survivor, Pitt Nurse graduate featured in local media
Merel Duursma is a cancer survivor and a nurse at Children's Hospital of Pittsburgh of UPMC, where she was treated for the disease as a child. You can read her story here, including how she decided to become a nurse. This 2014 BSN graduate works in the transplant unit and continues to receive care there through the hospital's Survivorship Clinic.