Pitt Day of Giving Is Tomorrow!
Celebrate the founding of the University of Pittsburgh on February 28 by participating in the Pitt Day of Giving.  Gifts of all sizes will make an impact.  The University has issued a challenge and the school with the largest number of donors will receive $15,000.  As an alum of the School of Nursing, please help us win this challenge and by supporting your Alma Mater.  Donations of $5 and higher will help achieve our goal of finishing in first place!
School-specific funds from the Day of Giving will support:
Nursing Student Uniform Fund: Support for the purchase of one uniform per student for the first year of clinicals
Student International Travel Fund: Support for students who wish to pursue international travel opportunitie
Scholarship Fund: General nursing scholarship fund
General Research Fund: General support for student-led research
Unrestricted Support: General student support
Staff Development: Funding for workshops, technology upgrades, equipment, activities, and projects recommended by the Faculty/Staff Welfare Committee
Donate Now – Pitt Day of Giving
Celebrating the Life and Legacy of Ellen Rudy
Ellen Rudy, PhD, RN, FAAN, dean of the School of Nursing from 1991 until 2001, passed away in late December.
Under Rudy's leadership, the School of Nursing ranked among the 10 highest National Institute for Nursing Research-funded schools, a ranking it continues to hold to this day. A nationally recognized expert in the field of nursing research, Rudy was principal investigator on five National Institutes of Health-funded projects.
She earned her bachelor's degree in nursing from Ohio State, a master's in public administration from the University of Dayton, a master's in nursing from the University of Maryland, and a PhD in nursing from Case Western Reserve University.
It was through Rudy's leadership at the School of Nursing that the Cameos of Caring® Program & Awards Gala was established to recognize excellence in bedside nursing. While dean of the School of Nursing, she was impressed by how much knowledge and responsibility the nursing role commanded in today's world.  At the same time, Rudy also was dismayed by the lack of acknowledgment and reward these same nurses received for their significant contributions to quality patient care. As a result, Rudy was inspired to research several nursing recognition programs across the country, leading to the creation of the Cameos of Caring Program.
Rudy was recognized with numerous awards during her career, including The Ohio State University College of Nursing Outstanding Alumni Award and the Ohio Nurses Association Excellence in Nursing Award.  She was also honored as a "Living Legend" by the American Academy of Nursing in 2006.
Accepting Applications for "Fast Track Back" a Nursing Refresher Course
Have you taken a step back from nursing, but now are interested in jumping back in to bedside work? Pitt Nursing's "Fast Track Back" program may be the right fit for you.
This refresher program will enhance your competence and confidence in knowledge, skill, and practice, and allow you to be better prepared to re-enter the workforce.
Participants will take part in two sections. The first reacquaints nurses to the role of the RN practicing today, physical assessments, systems review, pharmacology updates, clinical decision making, and communications skills. Sessions meet weekly for six weeks, and participants must successfully complete all six classes to participation in Section II.
Section II has six clinical days, with participants caring for adult medical/surgical patients in an acute care hospital, with the supervision of a School of Nursing instructor. Participants must attend all clinical days.
Section I costs $1,250 (including all course materials) and has 33 contact hours awarded. Section II costs $1,250 (including liability insurance) and has 45 contact hours awarded.
Applications may be submitted for this program until Monday, March 11.
More information is available on the Continuing Education website. 
Faculty Members Honored as African American "Women of Excellence: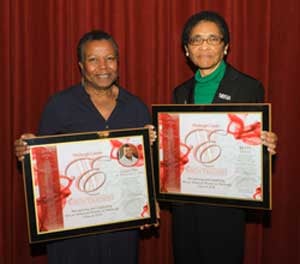 Betty Braxter, PhD '03 and Claudia Kregg-Byers, PhD '14, BSN '04, both assistant professors and alumni of the University of Pittsburgh School of Nursing were honored with the Pittsburgh Courier newspaper's "Women of Excellence Award".  The award recognizes African American women from various professions who are making strides toward excellence in their community, business/organization and other significant areas.  
PhD Alumna Named as Dean at St. Catherine University
Congratulations to alumna Laura Fero (PhD '09), who will be the new dean of Nursing in the Henrietta Schmoll School of Health at St. Catherine University, in Saint Paul, Minnesota.
Fero currently serves as the dean of Nursing at Lees-McRae College in Banner Elk, North Carolina. There, she designed, built, and implemented four new degree offerings and established the new May School of Nursing and Health Sciences.
She received her master's in nursing and business administration from the University of Phoenix and her bachelor's in nursing from University of Wisconsin-Madison. Fero is a member of the American Nurses Association, Sigma, and the National League of Nursing and Doctor of Philosophy degree from the University of Pittsburgh .
Student Profile: Brayden Kameg
Doctor of Nursing Practice student Brayden Kameg (BSN '16) received the 2019 Evidence-Based NIDA Mentored Training Award. This award is a partnership between the National Institute on Drug Abuse and the American Association of Colleges of Nursing.
She was selected based on her project, "Leveraging Advanced Practice Registered Nurses (APRNs) to Combat the Opioid Epidemic: Disseminating Evidence-Based Information to Enhance Practice Change." Kameg will complete her DNP program in April and start in a full-time faculty position at the School of Nursing in May.