Pitt Nursing Alumni and Faculty Constitute Half of Nurses Recognized by Pittsburgh Magazine
The innovation and talent from Pitt Nursing continued to shine this year in Pittsburgh Magazine. Alumni and faculty honored this year through the 2018 Excellence in Nursing Awards are:
Researcher: Eileen Chasens, professor and interim chair, Health and Community Systems, University of Pittsburgh School of Nursing
Community: Stuart Fisk (certificate '07), director, Center for Inclusion Health, Allegheny Health Network
Advanced Practitioner: Betsy George (MSN '83, PhD '99), programmatic nurse specialist, UPMC Presbyterian
Academic: Kathleen Sekula (MSN '86, PhD '98), professor and director, Graduate Forensic Nursing Programs, Duquesne University School of Nursing
In addition to the award recipients, several alumni and faculty also were named as honorable mentions in the following categories.
Academic
Debra Wolf (PhD '07), professor and director, Health Care Informatics, Chatham University
Deborah Mitchum (BSN '77, MSN '86), assistant professor and director, Family Nurse Practitioner Program, Carlow University
Ann Mitchell, professor, University of Pittsburgh School of Nursing
Advanced Practitioner
Catherine Grant (MSN '88), assistant professor, University of Pittsburgh School of Nursing, and owner, Associates in Family Health
Rebecca Sullivan (BSN '04), CRNA and departmental educator, Excela Health
Melisse Maser (BSN '00, MSN '04), Neurology Service clinical coordinator, Butler Memorial Hospital
Leadership/Executive
 Denise Petras (DNP '09), director, UPMC Center for Nursing Excellence
Pitt Celebrates Our Nightingale Recipients
Several Pitt Nursing alumnae and faculty were honored in October at the 29th annual gala of the Nightingale Awards of Pennsylvania.
Eileen Chasens, professor, was the recipient of the Nursing Research award. Bettina Dixon (MSN '93, DNP '17), instructor, received the Doctor of Nursing Practice award. Anne Hast (MN '81, DNP '12) received the Nursing Administration award.
Award finalists affiliated with the School of Nursing were Becky Faett, assistant professor, and Mary Frances Pilarski (BSN '98).
Scholarship recipients were PhD student Lacey Wright Heinsberg, DNP student Derek Schmack, and BSN student Justine Wang.
New Pittsburgh Courier Recognizes Pitt Faculty
Betty Braxter (PhD '03), assistant professor, and Claudia Kregg-Byers (BSN '04, MPH '14, PhD '14), assistant professor, were selected as two of the New Pittsburgh Courier's 2018 Women of Excellence honorees. Fewer than 50 women from around the Pittsburgh region were selected for this year's class of recipients.
Several others from the University also were recognized, including Sherdina Harper, coordinator of cross cultural programming; Debra Dennison, coordinator, Pitt Public Health; Cheryl Johnson, vice chancellor for Human Resources; Valerie Kinloch, dean, School of Education; and Linda Williams-Moore, associate dean and director of Student Life. The awardees were announced earlier this fall.
Stay Caught Up with Pitt Nursing
Are you looking for ways to stay in touch or keep up with events you might have missed? Follow us on social media and check out our Google Photos picture albums.
Whether you like pictures, snippets, or posts, Pitt Nursing's social media channels are a great way to see what's going on at the school, and what our alumni, faculty, and students are up to.
Pictures are also uploaded to Google photos after selected events. Check out some of our recent events:
Student Profiles: BSN Students Receive Accolades from Student Nurses Association of Pennsylvania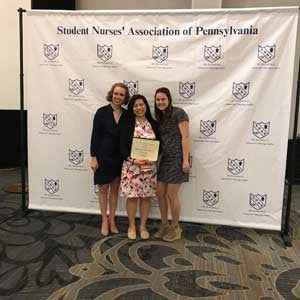 Junior BSN students Julia Rosenblatt and Elizabeth Wilk and senior BSN student Michelle Mak were each recognized at the Student Nurses Association of Pennsylvania (SNAP) convention last month in Harrisburg.
Rosenblatt and Wilk were elected by their peers to SNAP's Board of Directors. Mak received a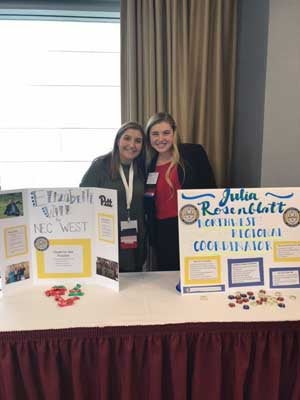 scholarship from SNAP to support her educational endeavors.