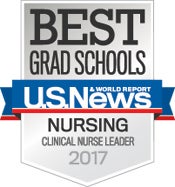 The School's Clinical Nurse Leader concentration is ranked FOURTH in U.S. News & World Report's 2017 Best Graduate Schools.
The Clinical Nurse Leader (CNL®) program is designed for the nurse who wants to have a significant impact on the profession while remaining in direct patient care. This nursing role was developed to improve the quality of patient care, safety, and outcomes. You can discover more about the national effort to create and promote the CNL role here. 
What is a Clinical Nurse Leader?
The CNL is a leadership role for nurses in the clinical environment. The health care industry is being called upon to find ways to coordinate care across all types of health care services and settings, improve patient safety, and deliver effective and efficient care in a fiscally responsible manner. The CNL position is dedicated to improving the quality of patient care at both the individual and the aggregate levels, identifying and using best practices based on the most up-to-date evidence. 
The CNL is responsible for evaluating patient outcomes, assessing risk across groups of patients, developing or revising care plans, and coordinating care amongst the multi-disciplinary health care team. The CNL acts as a critical liaison between nursing administration and the staff nurse, serving as an invaluable resource to that frontline care provider. 
Pitt Nursing's CNL Program
The 42-credit CNL curriculum includes the clinical experiences and competencies mandated in the AACN Competencies and Curricular Expectations for Clinical Nurse Leader-Education and Practice. Our program gives students a strong foundation in physiology/pathophysiology, health assessment, and pharmacology. Coursework covers organizational and management theory, leadership development, and education and mentoring in the clinical setting. Courses on evidence-based practice and conducting research prepare graduates to utilize research outcomes to enhance daily practice. Pitt CNL students have opportunities to apply their new knowledge through hands-on projects and clinical experiences in acute care facilities, quality improvement departments, health plans, non-profit organizations, community settings, or schools of nursing. 
Pitt Nursing offers its highly-ranked CNL program both on-campus and online through Pitt's award-winning online learning platform: online courses are taught by the same faculty as onsite courses and clinical experiences can take place in supervised facilities near the student's home. The interactive online classroom provides opportunities for active learning, discussion, problem solving, debate, critical thinking, networking, and community building. Applicants to the online program should note that this program may not be available to students from every state. Click here to determine if you are eligible to enroll in Pitt's online program.
Upon graduation, candidates are eligible to sit for the Clinical Nurse Leader Certification Examination administered by the Commission on Nurse Certification. The CNL certification is based upon a national standard of requisite knowledge and experiences, thereby assuring employers, the public, and members of the health professions of the competencies of a CNL. Our graduates have gone on to challenging patient care careers in a variety of health care settings.
CNL Program Coordinator Rosemary L. Hoffmann, PhD, RN, CNL discusses why employers will appreciate CNL-prepared nurses.
Graduates of the CNL program will be prepared to go on to earn either a DNP or PhD in the future; our curriculum is designed to reduce duplication between this Master's level coursework and that of the doctoral program. Many graduates have seamlessly enrolled in our Nurse Specialty Role: Administration major in the Doctor of Nursing Practice program. CNL students interested in pursuing their PhD will find that they have a more robust clinical background to support their research careers. 
Graduates of the program are prepared for the following aspects of practice, based upon the AACN's Competencies and Curricular Expectations for CNL:
Clinical leadership for patient-care practices, including the design, coordination and evaluation of care for individuals, families, groups, and populations
Participation in identification and collection of care outcomes
Accountability for evaluation and improvement of point-of-care outcomes, including the synthesis of data and other evidence to evaluate and achieve optimal outcomes
Risk anticipation for individuals and cohorts of patients
Lateral integration of care for individuals and cohorts of patients
Design and implementation of evidence-based practice(s)
Team leadership management and collaboration with other health professional team members
Information management or the use of information systems and technologies to improve health care outcomes
Stewardship and leveraging of human, environmental, and material resources
Advocacy for patients, communities, and health professional teams
Click here for an asynchronous Information Session about the Master's Clinical Nurse Leader online program. 
View Brochure (PDF)