The nurse anesthesia program doctoral curriculum is offered in a full time format over 36 months (9 terms) and classes begin each January. The curriculum consists of 85 credits (class and clinical). After the first two terms, the curriculum design integrates classroom and clinical experiences. The curriculum consists of 38 core credits and 47 anesthesia specialty credits.
Clinical practice begins as two days/week in the third term and increases in both intensity and frequency throughout the course of study. Course work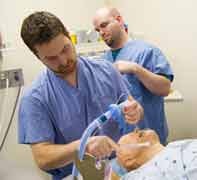 in the final year includes a DNP project and preparation of the comprehensive examination and Certification Examination. All anesthesia classes are during daylight hours and students are not scheduled for clinical experiences on anesthesia class days. Core courses may be scheduled during evening hours and students' clinical schedules are adjusted accordingly.
Candidates who have been accepted for admission may enroll in selected DNP core courses prior to entering the full-time curriculum. This allows the student to lessen the academic requirements of the full time program.
Spring Term (Year 1)
Summer Term (Year 1)
Fall Term (Year 1)
Spring Term (Year 2)
Summer Term (Year 2)
Fall Term (Year 2)
Spring Term (Year 3)
Summer Term (Year 3)
Fall Term (Year 3)
NURSAN 3805 Comprehensive Anesthesia Review Seminar 2 cr.
Comprehensive Examination
NURSAN 3806 Transition to Clinical Practice (4 days per week) 2 cr.